[SatNews] Axiros has announced that ViaSat will leverage Axiros' technology and expertise for its own satellite services, as well as for the services it resells to other satellite providers—this deal marks ViaSat's first deployment of the TR-069 protocol over satellite.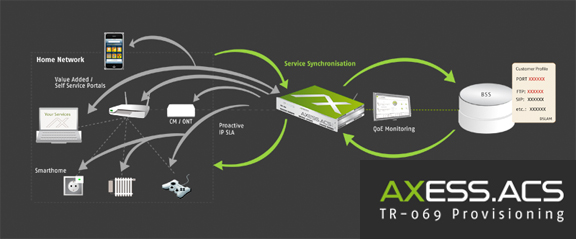 ViaSat supplies satellite and other wireless networking systems and services. Under the agreement, the company will deploy Axiros' AXESS.ACS for device management and provisioning and AXACT TR-069 Stack for integration and implementation of the TR-069 protocol within its satellite modems. ViaSat builds, designs and provides these modems as part of the turnkey satellite systems and services it provides for consumer, business, government and other satellite service provider customers.

The company selected Axiros based on the firm's best-of-breed technology and ability to meet the unique requirements and challenges (e.g., latency) of delivering services and managing devices over a satellite network. Also significant was the flexibility, scalability and responsiveness of the AXESS.ACS Northbound Interface (NBI) as ViaSat plans to exclusively call and evoke AXESS.ACS through the NBI and other OSS/BSS systems.
The move reflects Axiros' expansion into satellite communications and adds to the company's growing list of access networking technologies across which its products are used. Additionally, ViaSat's decision underscores the expansion of the TR-069 standard beyond terrestrial networks into next generation satellite networks.