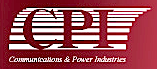 A new senior executive has been brought into CPI Antenna Systems Division to share his 27 years of experience with industry firms, including L3 Technologies, Viasat, General Dynamics and Globalstar.
The announcement came from the Antenna Systems Division (ASD) of Communications & Power Industries (CPI) that Andre Jones is joining its management team as vice president, business development, effective immediately. In this role, Mr. Jones is responsible for the division's business development and marketing across satellite, radar, high frequency, data link and telemetry products.
Mr. Jones brings more than 25 years of experience in satellite communications technology and services to his new position. Before joining CPI Antenna Systems Division, he served in several senior roles at leading industry firms, from managing the global sales team for Viasat Inc.'s commercial business, to serving as pre-sales director and team leader for General Dynamics Corporation's Satcom business, and leading international deployment and integration teams for Globalstar.
Mr. Jones said that the CPI Antenna Systems Division has a broad and deep product line, made up of outstanding technology, with the ability to customize it, configure it and meet demanding requirements with great speed and flexibility. Additionally, it also has one of the longest and most impressive technical legacies in the industry, and he looks forward to helping to put those powerful assets to work for the division.
Tony Russell, president of CPI Antenna Systems Division added that Andre is a proven leader who has a deep knowledge of the industry and what it takes to be successful. We are very pleased to have him join the team and look forward to his contributions.
Mr. Jones holds bachelor's and master's degrees in electrical engineering from Florida Atlantic University and Georgia Tech, respectively; an MS/MBA in technology management from Mercer University; and air traffic control certifications from the Transports Canada Training Institute.