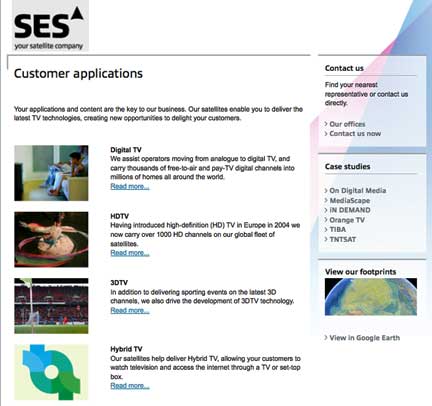 [SatNews] SES (Euronext Paris and Luxembourg Stock Exchange: SESG) has signed a long-term renewal with...
...the U.K.'s Channel 5 for one transponder that it is using on the ASTRA Satellite System at 28.2 degrees East. SES owns and operates the ASTRA Satellite System.
As a key U.K. public service broadcaster, Channel 5 broadcasts a wide variety of programming, from its own news service to current affairs, sport and children's programs, as well as documentaries and lifestyle programmes, reality television and American drama. Channel 5 regularly attracts 45 million viewers a month and is available through ASTRA 28.2 degrees East on both the pay-TV platform Sky and the free-TV offer Freesat.
Additionally, SES has also signed a long-term extension of its framework agreement with...
...Groupe Canal+, the leading French pay television operator. This agreement extends the duration of Canal+'s entire capacity of 24 transponders on the SES fleet at the prime orbital position ASTRA 19.2 degrees East. Canal+ recently contracted its 24th transponder on the ASTRA Satellite System in order to further enlarge its HD line-up. The transponder was previously used for the German market.