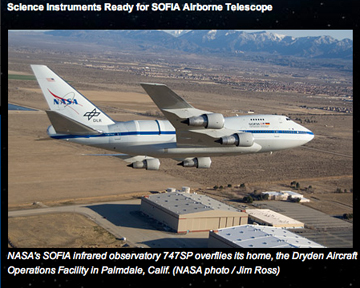 NASA has awarded a contract modification to L-3 Communications Integrated Systems, L.P., of Waco, Texas, for further developmental engineering in support of the Stratospheric Observatory for Infrared Astronomy mission, known as SOFIA.
This option modification under the base contract L-3 currently holds extends the period of performance through December 31, 2009. The
option is valued at approximately $8.7 million
, bringing the total value of the contract to about $37.7 million.
The
initial cost-plus-award-fee contract took effect February 9, 2007, with a 23-month base period extending through December 31, 2008, with three one-year options.
Two additional one-year option periods yet to be exercised could extend the agreement through December 31, 2011.
Under the base contract, L-3 Communications is responsible for completing
development and testing of the SOFIA Airborne System, including modification, fabrication, installation, integration, and verification of various systems to meet mission requirements.
Option 1 of the contract covers completion of the SOFIA subsystems, such as the mission control and communication system. The option also includes engineering and flight test support for the telescope cavity door-open flight tests and early science flight programs, and support of reviews leading to NASA public aircraft certification.
The
SOFIA program includes a high-altitude airborne observatory consisting of a German-built 2.5-meter (100 inch) infrared telescope mounted in a cavity in the rear fuselage of a highly modified Boeing 747SP jetliner. Scientific instruments housed in the observatory will be capable of celestial observations ranging from visible light through the sub-millimeter far-infrared spectrum.
NASA and the German Aerospace Center are developing SOFIA jointly.
Scientists are busy preparing for the "First Light" flight of NASA's Stratospheric Observatory for Infrared Astronomy, or SOFIA, a highly modified Boeing 747SP with a 2.5-meter (8.2-foot) diameter infrared telescope installed in its rear fuselage. The first-light astronomical observation flights are now tentatively scheduled for Spring 2010 from NASA's Dryden Aircraft Operations Facility in Palmdale, California.
For more details about SOFIA and its mission, visit.