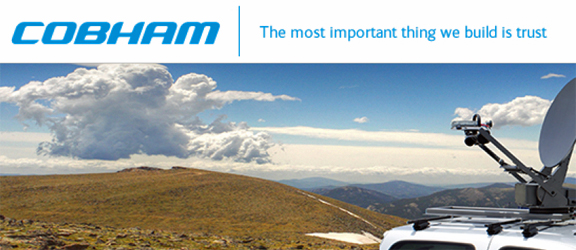 [SatNews] Cobham SATCOM announces that, prior to the start of IBC 2015 in Amsterdam (10-15 September), the company's new EXPLORER 8100 Auto-Acquire Drive-Away antenna has been approved for use on Eutelsat KA-SAT services.
This gives broadcasters using the popular Eutelsat NewsSpotter VSAT service for Satellite News Gathering (SNG) an innovative new choice in hardware for 'Comms-On-The-Pause' applications.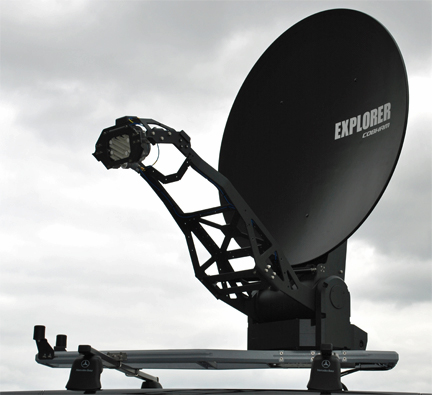 Cobham SATCOM's EXPLORER 8100 VSAT is the only stabilized 'Comms-On-The-Pause' VSAT antenna available. The VSAT overcomes the challenge of link destabilization resulting in transmission interruptions when the vehicle experiences sudden movements or rocking on its suspension when people enter and exit. 'Dynamic Pointing Correction', which uses technology developed for Cobham SATCOM's Maritime Antennas, ensures uninterrupted transmission on the Eutelsat KA-SAT network when similar antennas would experience a loss of signal.
NewsSpotter is the most used VSAT service for SNG in Europe and uses the EUTELSAT KA-SAT satellite, which features 82 spot beams each covering an area of some 300km in diameter. This means that within each individual beam, power can be highly concentrated, with a consequent increase of throughput and a significant reduction in the size and cost of ground equipment. Combined with the new EXPLORER 8100 VSAT from Cobham SATCOM, European broadcasters can enhance the already very high reliability of this essential Satellite News Gathering service.
Executive Comment
"We're delighted to go to IBC this year with our newest VSAT antenna already approved for Eutelsat's NewsSpotter service," said Henrik Nørrelykke, VP Land Business, Cobham SATCOM. "EXPLORER 8100 VSAT significantly outperforms other antennas if a stationary vehicle rocks and we are looking forward to showing this stabilization technology to IBC visitors with live demonstrations on our booth."