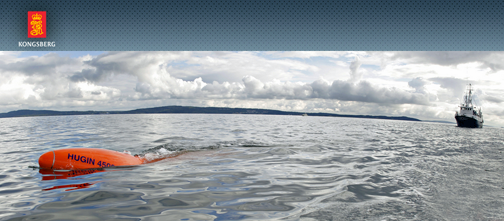 Aberdeen-based Kongsberg Maritime Ltd. is expecting high interest in their innovative KONGSBERG Seaglider™ autonomous vehicle during Subsea Expo 2017, which takes place at the Aberdeen AECC, 1-3 February.
KONGSBERG's Subsea Expo 2017 booth will also feature a host of established subsea technology designed to meet the exacting demands of research and commercial users during the annual, free to attend subsea conference and exhibition. Kongsberg Maritime Ltd, the UK subsidiary of global maritime and subsea technology developer Kongsberg Maritime, has recently added Seaglider to their rental pool and this unit is now available for diverse commercial and research applications alongside KONGSBERG's other autonomous underwater vehicles (AUVs), including Remus and Munin.

Seaglider is an autonomous underwater vehicle/underwater glider developed for continuous, long term measurement of oceanographic parameters. Rather than an electrically driven propeller, the vehicle uses small changes in buoyancy and wings to achieve forward motion. The system's pitch and roll are controlled using adjustable ballast (the vehicle battery).
Much of the technology to be shown on KONGSBERG's Subsea Expo 2017 booth is already recognised as de facto industry standard, with highlights including the recently released cNODE Mini S transponders. As the smallest member of the cNODE series of subsea transponders, cNODE Mini S provides accurate, cost effective underwater positioning for ROV operations and is a compact, lightweight option for users of the extensive cNODE portfolio.
Kongsberg Maritime Ltd will also be running a 1 day AUV Operations Introduction Course at its Aberdeen-based training centre on 3rd February. The training centre saw high interest for this in-depth introductory course in 2016 and expects this year's course to attract similar numbers, especially considering the influx of industry visitors to Aberdeen for Subsea Expo.
Members of the industry wishing to join the course can find out more on Kongsberg Maritime's brand new online training portal: https://training.km.kongsberg.com/course/auv-operations-introduction-course/aberdeen-uk