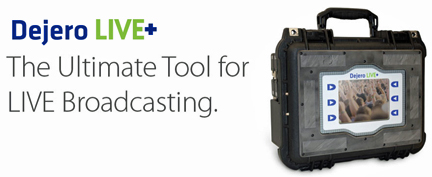 [SatNews] Dejero, creator of cellular newsgathering products, has announced that Australia's NBN Television has expanded its live electronic newsgathering (ENG) capabilities with the Dejero LIVE+ Platform.
Using the rugged and portable Dejero LIVE+ 20/20 Transmitter, NBN Television news crews are able to transmit broadcast-quality, live video from the source of breaking news using available cellular networks and Wi-Fi connections.
"Previously, we had to hire a satellite truck and do a significant amount of advanced planning in order to put a live, remote feed on the air. Not only was it costly, but it meant we could not always respond quickly to breaking news," said Stephen Bates, studio engineering supervisor, NBN Television. "Now, our mobile crews can respond instantly the moment we hear of a news situation — they just grab the small briefcase-sized Dejero LIVE+ 20/20 Transmitter and a camcorder and go right to the scene. This technology has really upgraded the look and character of NBN Television's news reporting, bringing new levels of freshness and immediacy to our broadcasts."
Using the Dejero LIVE+ 20/20 Transmitter, NBN Television news crews are able to access news scenes that might be off-limits or impractical for a satellite or microwave truck, and then set up in minutes to begin transmitting live video feeds or record them for later broadcast. Depending on the location, the Dejero LIVE+ 20/20 Transmitter can bond available Wi-Fi and cellular networks to enable the bandwidth for HD video with latency of less than a second. In areas with little or no cellular coverage, the crews are able to store and forward video and then transmit it as they travel back to the station. At the NBN Television broadcasting facility in Newcastle, New South Wales, a Dejero LIVE+ Broadcast Server receives the feeds and integrates them into the station's live production workflow. These capabilities proved valuable during NBN Television's recent coverage of a large brush fire in New South Wales. News crews were able to access remote fire locations and transmit a wide array of live and recorded video feeds that were integrated quickly into NBN Television's news bulletins, as well as those of its affiliate network, the Nine Network.
"The Dejero LIVE+ 20/20 Transmitter's ease of use and rapid setup is a huge advantage to our news department, because it means we can deploy smaller and less technical crews in the field," Bates said. "Back in master control, our engineers are able to use Dejero's remote control capabilities to access the transmitter and adjust its settings to maintain bandwidth, leaving the camera crew free to concentrate on getting the story. It's a very empowering tool for our on-location journalists."
Dejero LIVE+ is sold and supported in Australia by Sydney-based digital media specialist Digistor, which was instrumental in supplying the solution to NBN Television and can provide local demonstrations and information to organizations evaluating ENG options.
For further information, please visit http://www.dejero.com/