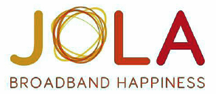 Jola has launched—this is a much needed Pan-African Ku-band managed retail satellite service with coverage into sub-Saharan Africa and is provided by iWay Africa, a wholly owned division of Gondwana International Networks.
Meaning 'one who brings happiness', Jola provides affordable satellite Internet to the aforementioned geographical area as well as into areas with limited connectivity options. With pre-defined, branded packages available throughout the retail channel, Jola offers households and business users affordable broadband internet connectivity. With packages extending across all user profiles, Jola effectively addresses business and household needs, including a business continuity service, Jola SOS, and a 1GB emergency data advance for those occasions when user's data allowance has expired.
Ali Bofulo, General Manager, iWayAfrica, stated that Africa remains in dire need of affordable broadband services and that Jola offers pricing lower than any existing Ku-band satellite services, offering users true flexibility in selecting a monthly data allowance and speed that suits their needs.

With more than 15 years of operating their own ISPs across Africa, iWayAfrica have built on their own customer experiences so that every Jola customer enjoys a range of Jola Perks that are relevant to their needs including free night usage or double speed at night, as well as standard features of an ability to swap between same category of service plans with no penalties.
Jola is sold via Authorized Partners including all iWayAfrica and AfricaOnline networks, as well as iWayAfrica's channel partner network with a combined reach into 44 markets in Sub-Saharan Africa.