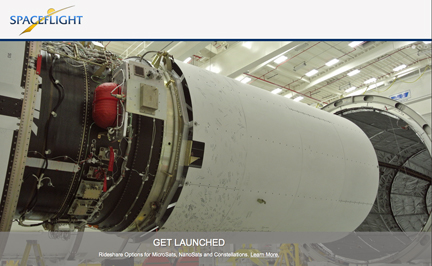 [SatNews] Spaceflight Inc., the company reinventing the model for launching small satellites, has promoted Curt Blake as its new President.
Blake, who previously served as Senior Vice President and General Counsel, has led efforts to expand Spaceflight's global network of launch service providers while building relationships with key commercial-, civilian- and defense-related customers. Blake has more than 25 years of executive experience in high-growth and tech industries, with past experience including a range of senior executive and general counsel roles at Microsoft, Starwave, Corbis and Aldus.

"Curt has excelled in putting structure on high-growth companies in the past, and has done a tremendous job in the past three years building out Spaceflight's products, services and our personnel team," said Jason Andrews, CEO of Spaceflight. "I know Curt will succeed as Spaceflight moves to acquire larger payloads in our expanding markets."
Spaceflight helps organizations launch small satellites into space by offering a "one-stop-shop" service that manifests, certifies and integrates multiple auxiliary payloads onto a single launch vehicle. Spaceflight contracts excess capacity on its worldwide network of partner launch vehicles, thereby enabling cost-effective launch services for small-satellite customers while securing additional revenue for the launch service provider. In the last three years, Blake oversaw Spaceflight's first four commercial rideshare launches, on the Antares, Soyuz and Dnepr vehicles, from sales to mission management to launch. Blake is a current member of the Commercial Spaceflight Federation Board and contributor to numerous small-satellite conferences. For more information, please visit.