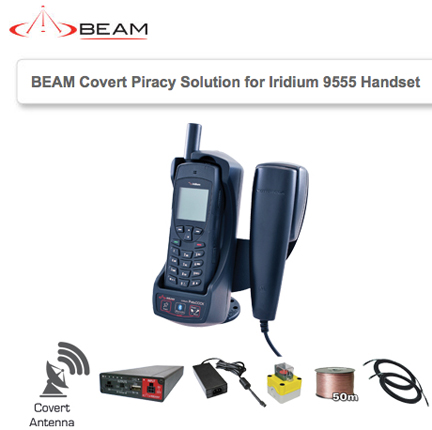 [SatNews] Beam Communications Pty Ltd. has a new satellite piracy solution for...
...Iridium-based, secure communications on board a vessel. Beam's new PotsDOCK Extreme Covert Piracy Solution uses the Iridium Extreme® satellite handset and the Beam Covert Antenna system to provide a dedicated system for a safe room or citadel on board a vessel. The system ensures that essential communications on board the vessel, such as the ability to alert authorities in the event of a piracy attack, can be maintained even if all power or communication equipment has been cut off or destroyed by pirates. The system couples the Iridium Extreme handset and the Beam Extreme PotsDOCK to provide the captain and crew with access to voice communications, tracking and alert functionality from the system. In the event of an attack, an alert can be raised and the vessel can be tracked immediately.
"As a catalyst for the new and innovative products that our partners bring to the maritime market – especially when it comes to addressing crew safety – we admire the Beam PotsDOCK Extreme Covert Piracy solution," said Greg Ewert, executive vice president, global distribution channels, Iridium. "It not only works everywhere off the global, reliable Iridium communications network, but it is specially designed to enable connectivity for vessels in dangerous situations."
"Over the past 18 months we have seen an increasing demand for Beam's piracy solutions with the total number deployed getting close to 500 units," said Michael Capocchi, managing director, Beam Communications. "Safe and secure communication is extremely important for addressing the growing concern of piracy attacks on both commercial and leisure vessels. Beam specializes in anti-piracy communication solutions developed for the marine market and are certainly meeting these needs."
The new PotsDOCK Extreme Covert Piracy Solution will be launched at CommunicAsia2012 in Singapore at stand #1T2-03). Initial orders have already been received and the new piracy solution will be distributed by all the major Beam resellers.