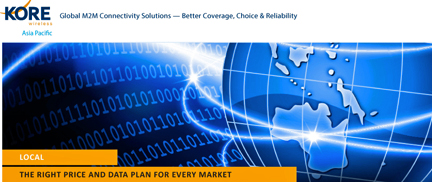 [SatNews] KORE Wireless is set to impart a wealth of knowledge at this years' CommunicAsia 2014 as the world's largest dedicated M2M wireless network provider takes to the stage for a series of conferences and workshops.
The conference, held from June 17 to 20 at the Marina Bay Sands, Singapore will host over 900 registered attendees and hundreds of exhibitors showcasing solutions and devices across the wireless, satellite and broadcast technology industry.
Vice President and General Manager at KORE Wireless Asia Pacific, Shane Murphy said machine to machine technology was thriving in South East Asia.
"KORE Wireless has a number of strong partnerships in the Asian market and this is an area that we see continuing to strengthen in the coming years," Mr. Murphy said.
"CommunicAsia is a great opportunity for us to go and showcase how our customers and partners can do business on a global scale using the KORE M2M network and how we can deliver for those wanting to develop devices and provide services in Asia."
KORE Wireless will present an opening address on The Internet of Things, a two hour workshop on maximizing IoT/M2M strategies and a case study of the Smart City.
Jeff Stark, EVP of Platform Sales will be representing KORE Wireless alongside leading representatives from Ericsson, NEUL, Huawei Technologies and AT&T Business Solutions as part of a panel as they discuss the benefits behind the Internet of Things and M2M for end users.
"Our exposure to a broad spectrum of m2m technology globally provides us with the perfect opportunity to showcase and expand on the capabilities and innovation behind this complex industry, in a rapidly changing market," Mr. Murphy said. "The market in Asia understands the power of machine to machine technology and is already making strong moves forward to compete and potentially overtake Europe and North America. CommunicAsia is the ultimate platform in South East Asia for our space and one that KORE is proud to be a part of."
KORE Wireless can be found exhibiting throughout the show at booth 1S1-01.
Timetable of KORE speaking engagements
Thursday June 19th
2:15pm - 2:45pm
Trends in the Internet of Things & M2M for 2015 & beyond
Level 3, Heliconia Room 3502-3503, Presented by Shane Murphy
3:00pm - 3:20pm
NXT Cities: It's the little things that count. Collecting & using data in the Smart City Studio NXT
Level 3, Stand 3C5-10, Presented by Shane Murphy
3:30pm - 4:15pm
Closing Power Panel: What are the benefits of IoT & M2M for businesses & end users
Level 3, Heliconia Room 3502-3503
Participants: Jeff Stark, EVP Platform Sales, KORE Jon Sonsteby, Senior Director, Innovation & Business Dev, Ericsson Benedict Peters, VP Marketing, NEUL Barry Lerner, CIO, South Pacific, Huawei Technologies Sean Horn, Director M2M Business Dev, AT&T Business Solutions Moderator: Harisn N. Taori, Director, Asia Pacific Research, Current Analysis
Friday June 20th
9:00am - 12:15pm
Workshop 2: Navigating the Internet of Things
Level 3, Heliconia Room, 3504
Timetable: 9:20am - 9:30am - Opening Remarks
9:30am - 10:30am - Building an IoT Ecosystem, presented by Shane Murphy
10:30am - 10:45am - Morning Break & Refreshments
10:45am - 11:45am - How Big Data will generate new revenue streams in IoT, presented by Jeff Stark
11:45am - 12:15pm - Cities in the Age of Analytics, presented by Dr. Dean Economou, National ICT Australia
The KORE Wireless infosite is located at http://www.korewireless.com.au/