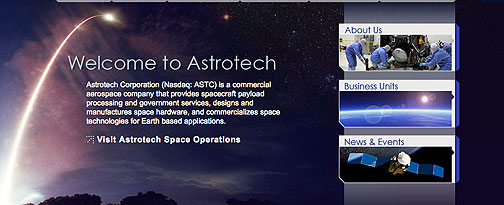 [SatNews] Astrotech Corporation (Nasdaq:ASTC) has completed an internal reorganization and will now own 100 percent of its subsidiary companies 1st Detect Corporation ("1st Detect") and Astrogenetix Inc. ("Astrogenetix"), in which it had previously issued equity grants to employees.
"This transaction was the right thing to do for our shareholders," said Thomas B. Pickens III, Chairman and CEO of Astrotech. "The subsidiary equity grants were meant to incentivize our employees, however we found that it caused confusion and uncertainty among our shareholders, so we have now simplified our corporate structure."
This transaction will restore the ownership by Astrotech shareholders of 100 percent of the subsidiary companies. Previously, Astrotech Corporation owned 86.4 and 83.6 percent of 1st Detect and Astrogenetix, respectively. In connection with the Annual Shareholders Meeting scheduled for June 26th, the company asked its shareholder to authorize additional shares in Astrotech Corporation to be used for future incentive compensation. Many of these shares will be used to compensate those hardworking employees who will no longer own stock in 1st Detect and Astrogenetix.
The Astrotech infosite is located at http://astrotechcorp.com/