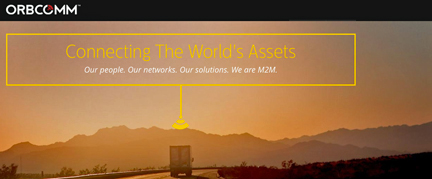 [SatNews] ORBCOMM Inc. (Nasdaq:ORBC), a global provider of Machine-to-Machine (M2M) solutions, has announced that its partner, Savi Technology (Savi), has been awarded a five-year U.S. Department of Defense contract as the sole provider to the $204 million RFID-IV program, which currently has a $102 million ceiling.
The RFID-IV program offers a wide range of technology solutions, including newly-upgraded Radio Frequency Identification (RFID), satellite-based, Enhanced In-Transit Visibility (EITV) and Advanced Intrusion Tracking Detection (ATID) products and services, to a wide range of government customers for global asset planning and tracking of personnel, equipment and sustainment cargo worldwide.

In support of the RFID-IV program, ORBCOMM and Savi will offer satellite and RFID tags as well as other sensor technologies using ORBCOMM's global communications networks, which will enhance the visibility and security of government cargo in transit. ORBCOMM's advanced tracking and monitoring solutions will provide government customers with the current location of their cargo and send real-time alerts for security breaches and other anomalies such as cargo entering or exiting a geozone outside of pre-determined parameters for immediate resolution. U.S. government customers, including the Army, Navy, Air Force, USTRANSCOM, Special Forces and Defense Logistics Agency, can now seamlessly track and secure their cargo anywhere in the world and access near-real-time operational data through existing government EITV systems or secure, dedicated web portals to meet specific mission needs.
ORBCOMM and Savi will continue to develop new technologies that leverage RFID and satellite tracking solutions through enhanced product integration and superior analytics to deliver actionable data to their government customers.
The ORBCOMM infosite is located at http://www.orbcomm.com/
For further details regarding Savi Technologies, head over to http://www.savi.com/