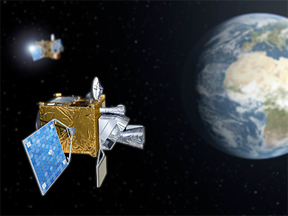 [SatNews] The European Space Agency and EUMETSAT have signed the agreement on the...
...Meteosat Third Generation weather satellite system at the ESA Ministerial Council in Naples, Italy. Signed by Jean-Jacques Dordain, Director General of ESA, and Alain Ratier, Director General of EUMETSAT, the agreement determines the principles of cooperation between the two agencies when establishing the various components of the Meteosat Third Generation (MTG) system and carrying out the related activities. Following a complex and rigorous review process to select the industrial consortium, the subsequent negotiations to reach full contract signature and the implementation of ESA best practices to complete the industrial team, this signing is the final step in implementing the decisions on MTG cooperation that were agreed at the ESA Ministerial Council in 2008.
The agreement continues the cooperation model that makes the best use of the two agencies' respective competences. ESA develops the MTG prototype satellite to meet the user and a system requirement defined by EUMETSAT, and procures recurrent satellites on its behalf. EUMETSAT develops the ground control systems and the infrastructure to deliver products and services to users and to respond to their evolving needs, procures launch services and operates the full system for the benefit of users.
This process also involves European industry through contracts with ESA and EUMETSAT, capitalizing on upstream European research and development, and stimulating the competitiveness and growth of European industry. This cooperation model also underpins the joint efforts on the Metop Second Generation (Metop-SG) program, the next generation of polar-orbiting Metop satellites, the important second pillar of the European contribution to global weather and climate monitoring for 2020–40.