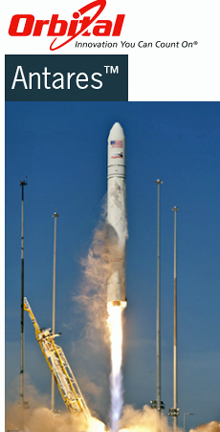 [SatNews] Orbital Sciences Corporation (NYSE: ORB) is prepared to launch its Antares rocket carrying the company's new Cygnus cargo spacecraft to the International Space Station (ISS) tomorrow (September 18th) morning.
The launch lift-off is scheduled for 10:50 a.m. (EDT) from the Mid-Atlantic Regional Spaceport (MARS) at NASA's Wallops Flight Facility on Wallops Island, Virgina. Antares will launch Cygnus into a targeted orbit of 245 x 300 kilometers, inclined at 51.6 degrees to the equator. Following in-orbit activation shortly after launch, Cygnus will carry out a series of tests and maneuvers over a four-day period to demonstrate its readiness to rendezvous and berth with the station, now planned for Sunday, September 22nd.
"Antares is the largest and most complex rocket Orbital has ever produced," said Mr. David W. Thompson, Orbital's President and Chief Executive Officer. "After its flawless inaugural flight in April, we have been actively preparing for this next critical, much-anticipated milestone.
Likewise, Cygnus is one of the most sophisticated spacecraft Orbital has developed and built. As an integral part of the Space Station program, it meets NASA's requirements for a human-rated level of safety. Our engineering and operations teams are very excited to be on the threshold of launching and conducting this mission, which they have been working toward for the last five years."
The goal of the mission is to demonstrate the capability of Orbital's cargo transportation system to reliably deliver cargo to the ISS, which will lead to regularly scheduled missions beginning as early as December. This demonstration flight is the final milestone in Orbital's Commercial Orbital Transportation Services (COTS) joint research and development initiative with NASA. Under the COTS program, which began in 2008, NASA and Orbital developed Cygnus, which meets the stringent human-rated safety requirements for ISS operations. Orbital also privately developed the Antares launch vehicle to provide low-cost, reliable access to space for medium-class payloads. Together, these elements are being used for the COTS flight demonstration of Orbital's commercial cargo supply capability to the ISS.
Pending the successful completion of the COTS program, Orbital will begin regularly scheduled cargo delivery missions to the ISS under its $1.9 billion Commercial Resupply Services (CRS) contract with NASA. Under the CRS contract, Orbital will deliver approximately 20,000 kilograms of net cargo to the ISS over eight missions through 2016. For these missions, NASA will manifest a variety of essential items based on ISS program needs, including food, clothing, crew supplies, spare parts and equipment, and scientific experiments.