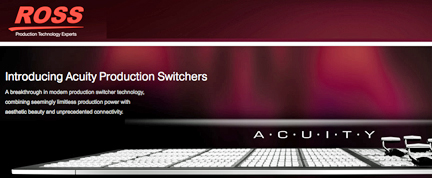 [SatNews] Ross Video has launched Acuity at NAB 2014, the first of a new generation of large production switcher platforms.
The culmination of 40-years' production switcher design experience, Acuity is a breakthrough in modern production switcher technology and combines seemingly limitless production power with aesthetic beauty and unprecedented connectivity. A truly multi-definition production system, Acuity accommodates all current production formats as well as full 3G 1080P and quad link UHD (4K). It's also an interconnected communications hub for the entire system, and offers the industry's largest library of third-party control protocols.
All six of Acuity's new control panels are fully modular and can be custom configured to suit operators' needs. Every button falls within perfect reach, all functions are directly accessible at the press of a single button, and button spacing has been carefully crafted to ensure accidental button presses are effectively eliminated. The 16:9 touchscreen menu and on-panel menu controls deliver ease of use and operational speed.

Acuity's processing engines are built using the latest FPGA chips, which offer significant room for growth and ensure new features can be easily integrated. Acuity comes with two production engines. The compact 4RU frame packs six ME's/Dual Head MultiViewers and an impressive 60 x 40 I/O, making it perfect for trucks and other environments where space is limited. The 8RU frame expands the I/O to a massive 120x60 and provides up to eight ME's/Dual Head MultiViewers.
For additional information, please visit http://www.rossvideo.com/