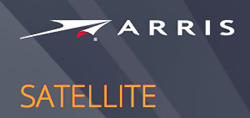 Two new advanced satellite receiver solutions for satellite distribution networks have debuted from ARRIS International plc (NASDAQ: ARRS): the DSR-7412 Integrated Receiver/Transcoder and DSR-4470 Integrated Receiver/Decoder — both of these new products are on display at ARRIS's booth SU1916 at NABSHOW in Las Vegas, which runs from April 22-27.
The new receivers feature next-generation HEVC UHD/4K decoding and DVB-S2X demodulation capabilities, adding to ARRIS's leading portfolio of satellite distribution solutions. The ARRIS DSR-7412 delivers up to 12 channels of both MPEG-2/4 HD and SD transcoding to support legacy STB capability, while the ARRIS DSR-4470 provides a dedicated decoding platform for full compatibility with next-generation distribution networks.
Dan Whalen, President, Network & Cloud and Global Services, ARRIS, noted that both of these new satellite receivers deliver an unprecedented range of capabilities and technology in a single rack unit chassis, enabling service providers to maximize the processing density in the headend and meet the growing demand for 4K entertainment services.