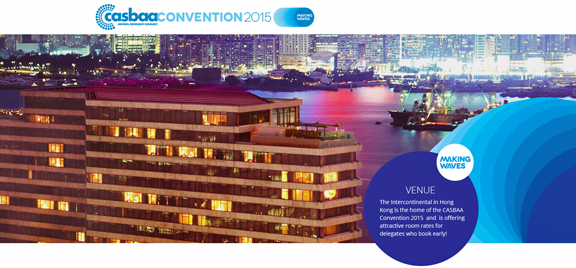 [SatNews] This year's CASBAA Convention will examine the monumental sea change that is being experienced by the TV industry and will explore how technologies, content and services are leading the charge as the broadcast and digital landscapes become increasingly intertwined.
With the theme 'Making Waves', the convention will highlight how new business models are helping companies navigate these uncharted seas and take a look at the disruptors who are churning up the waters of business as usual. One of the must-attend events on the Asia Pacific broadcast industry calendar, the annual CASBAA Convention is renowned for gathering a heavyweight speaker line up from key organizations across the industry to discuss the pertinent issues facing the TV business now and in years to come. With the convention moving to a new venue at the Intercontinental Hotel, participants won't fail to be impressed by the stunning views over Hong Kong harbor as well as the inspiring speaker and plenary sessions.
This year's convention has the underlying theme of "disruption" running through all the sessions, which will include the latest developments in over-the-top (OTT) services, new programme formats, the role of venture capital in the TV industry and the latest advancements in technology, as well as the ever-critical matters of piracy, broadcast rights, and licensing issues.
The impressive list of speakers who have signed up to date to share their views include: Li Ruigang, Chairman, China Media Capital; Tom Mockridge CEO, Virgin Media; Gwynne Shotwell, President & COO, SpaceX; Alon Shtruzman, CEO International, Keshet Media; David Shing, Digital Prophet, AOL; Jay Samit, CEO Seachange; Lauren Zalaznick, founder of the LZ Sunday Paper; Sam Rogoway, CEO, Victorious; Partho Dasgupta, CEO BARC India; and Mark Howard, Chief Revenue Officer, Forbes Media. Supporters for the CASBAA Convention 2015 include: ABS, APT Satellite, France 24, InvestHK, ITV Choice, MEASAT, PwC, RTL CBS Asia, Scripps, Networks Interactive, SES, Time Warner, True Visions and Turner.
The CASBAA Convention also provides plenty of opportunity for members and delegates to meet and interact with industry colleagues. As well as the booth display area and networking lounges for guests to relax, there are the popular networking parties.
Executive Comment
"Linear TV is still a major force in the Asia Pacific region, but there is no denying that the industry today is in a state of flux," said Christopher Slaughter, CEO, CASBAA. "These are very exciting times. Never before has there been such a strong opportunity to provide and distribute content to the consumer when, and where, they want it. With this rapidly evolving landscape, we encourage our members to make waves of their own by exploring new business models and strategies that will help provide dynamic content across a number of different screens."
For further information about the CASBAA Convention 2015, please visit www.casbaaconvention.com.