Furthering his 'Neighborhood First' policy, Prime Minister Narendra Modi on Saturday inaugurated the Thimphu Ground Station of the South Asia Satellite during his two-day trip to Bhutan, stating that through satellites, the benefits of telemedicine, distance education, resource mapping, weather forecast and warnings of natural disasters reach even remote areas.
Indian Space Research Organisation's (ISRO) GSAT-9 communications satellite, popularly known as the South Asia Satellite, launched in 2017 was envisaged as India's gift to its neighbors to increase regional cooperation by leveraging the country's position as a space power.
The Deccan Herald reported that Modi was joined by Bhutanese Prime Minister Lotay Tshering to inaugurate the ground station, which cost ISRO Rs 7 crore. Modi noted that this (ISRO's 'Ground Earth Station') will increase coverage of communication, public broadcasting and disaster management in Bhutan.
The Indian prime minister expressed happiness that young Bhutanese scientists would now travel to India to work on designing and launching Bhutan's own small satellite.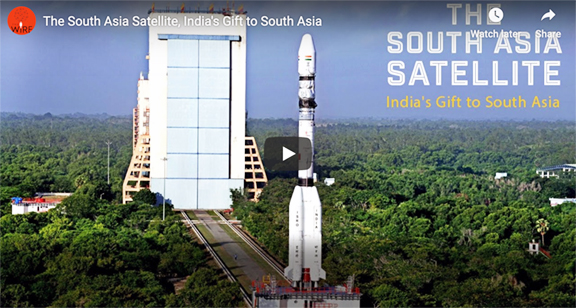 The Earth station has been built and set up by Bengaluru-based Alpha Design Technologies Ltd. (ALDT), The Hindu reported. The report added that the Thimphu station took nine months to complete and that another Earth station in the Maldives has also been executed. The Nepal station should be ready by December, with more to follow in Afghanistan and other countries. (View an informative video at this direct link...)
Various news reports suggest that while the station will help Bhutan take advantage of the South Asia Satellite, it will also serve as a strategic function to counter China's advanced satellite tracking station in the Tibet autonomous region.
Article source: The Wire