[Satnews]
ORBCOMM Inc.
(Nasdaq: ORBC) announces their new OGi core modem is now commercially available.
The ORBCOMM OGi modem has demonstrated compliance with Inmarsat's requirements for RF communication utilizing the Inmarsat I-4 L-band satellites along with the IDP network protocol.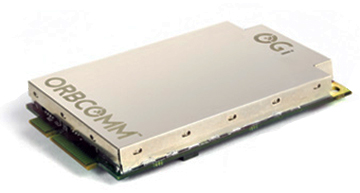 The ORBCOMM OGi modem is a software-defined radio that leverages the ORBCOMM satellite modem platform. With a footprint nearly 50 percent smaller than a credit card, both ORBCOMM's OG2 and OGi modems use the same electrical and application interfaces, including the connectors, power input and programming environment.
This interchangeable format enables customers to plug-n-play satellite connectivity utilizing the ORBCOMM VHF network and/or the Inmarsat L-band network without the need to redesign their M2M solutions. Similarly, data delivery for both the ORBCOMM and Inmarsat networks is transmitted through a common interface provided by the ORBCOMMconnect portal.
ORBCOMMconnect provides data from three satellite networks and seven terrestrial networks using a single connection, reducing the complexity of managing and integrating global M2M assets across multiple networks and technologies.
The OGi modem is the smallest and lowest cost IDP modem built to date. ORBCOMM is actively engaged with multiple customers integrating this standardized portfolio of M2M modem technology into their hardware solutions to enable asset tracking and monitoring applications within the marine, heavy equipment and transportation markets.
"This exciting milestone brings ORBCOMM one step closer to creating a truly standardized satellite M2M platform," said Craig Malone, ORBCOMM's Executive Vice President of Product Development. "ORBCOMM's interchangeable modems can utilize either the ORBCOMM or Inmarsat networks, providing our customers with unrivaled ease of use, flexibility and quality of service based on their unique application needs, including message size, delivery speed, geographic coverage and regulatory requirements."