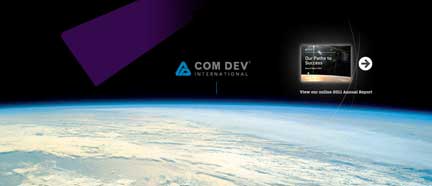 [SatNews] COM DEV International Ltd. (TSX:CDV) has been awarded an Authorization to Proceed (ATP) contract to deliver C- and Ku-band Multiplexers and Coaxial and Waveguide switches to a high throughput satellite.
The initial funding release of $5.6 million is to permit procurement and engineering activities to commence and it is expected that the full contract value will be in excess of $11 million. The full contract is expected to be signed by the end of August 2014. Work will be carried out at the Company's facilities in Cambridge, Ontario and El Segundo, California with completion expected by Oct 2015
"This award comes as the result of our close working relationship with a long-term customer leading to a low mass solution that reinforces our position as an industry leader in the supply of communication satellite equipment," said Mike Williams, President of COM DEV International Products.
The COM DEV Int'l infosite may be accessed at http://www.comdev.ca/.