[SatNews] Telit Wireless Solutions, a global provider of high-quality, machine-to-machine (M2M) solutions, products and services, has introduced their smallest and first 2G-cellular module to employ leading-edge "Conformal Coating" encasing technology.
The product, which also incorporates a Python Script Language interpreter, is capable of running customer applications internally without the need for additional electronics, and delivers a fully functional cellular connected customer application from a 227 mm² footprint which is about half the size of a standard SIM card.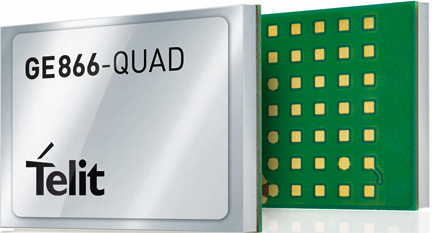 Targeted at worldwide GSM market, the 850/900/1800/1900MHz quad-band GSM/GPRS engine in the GE866-QUAD is voice-capable supporting analog and digital (DVI) interfaces. It delivers GPRS class 10, 3GPP Release 4 compliant data communications and is equipped with a high-speed ITU-T V.24 UART interface, seven I/O ports and an A/D-D/A converter. For streamlined application development and system integration the company offers RIL drives for all major operating systems.
The embedded Python script interpreter allows processing core in the cellular engine to run customer applications which can among other things, access a companion Telit GNSS module directly for a complete ultra-miniature tracking device. The GE866-QUAD is ideal for the battery-powered wearable technology segment because of class leading low-power consumption, size, and GPIOs operating on 1.8 Volt logic. With the new product, Telit is also targeting the smart metering, mobile POS terminal, mobile health, alarm panel, and size constrained telematics application areas.