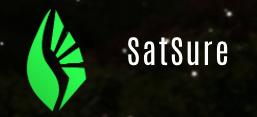 Crop loss due to harsh climate change is the bitter reality for many Indian farmers and is a major reason that a Bengaluru-based start-up—'SatSure'—hopes to provide a solution in regard to the 'data poverty' resident within the Indian agricultural sector, reports The New Indian Express infosite.
Although only eight months from the firm's inception, this private satellite data analytics company aims to build a 15 year archive of satellite images over the Indian subcontinent, captured at a frequency of eight days. The images will be processed and analyzed into information that could be used for decision making purposes by governments, insurance and re-insurance companies, banks, pesticide and seed companies as well as commodity trading firms.
After working on a pilot project with the Andhra Pradesh government, SatSure is now in talks with representatives from the Karnataka government. At present, the startup is building crop risk indices by combining the best practices of traditional satellite remote sensing, machine learning,and cloud computing. The team has completed pilot studies in collaboration with the government in the Srikakulam district of Andhra Pradesh. The study successfully showed the correlation between survey-based yield and predicted yield of paddy, thereby validating the powerful proprietary algorithms.
Prateep Basu, an analyst with Northern Sky Research indicated that there is so much data in space that all can make use of it to assess the health and yield of the crop and plan better. In India, insurance officers have to visit farms to verify crop loss—often, crop loss is assessed long after the incident and the farmer would only be paid a minimal amount. However, with data from satellites, physical visits to farms would no longer be required. This data can also be used for urban planning, identification of pest-infection in forest.
According to Abhishek Raju, founder of SatSure and the director of Dhruv Space Pvt Ltd, such methods can be used as a better parameter for crop yield assessment rather than precipitation indices derived from weather station data. These methods will be more cost-efficient than using drones due to the large area coverage of satellites.