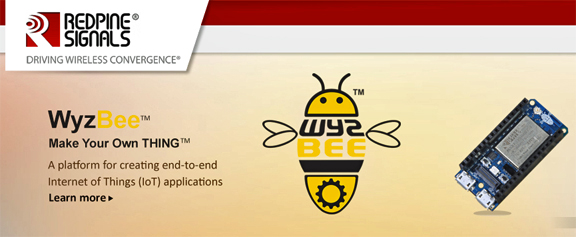 [SatNews] Redpine Signals has launched the world's first comprehensive IoT platform for device makers—the WyzBee platform —that includes a flexible hardware platform, development environment and cloud software and services framework.
The WyzBee IoT platform significantly reduces the time it takes to develop and bring to market new IoT devices by providing integrated sensing, computing, communicating, power management, cloud and application support. Redpine Signals is also accelerating IoT device development by providing a broad portfolio of Things profiles to developers like sensor, audio, GPS, GSM/GPRS and many more.
The compact WyzBee board includes Redpine's Wireless Secure MCU (WiSeMCU™) with multi-protocol wireless module providing Wi-Fi, Bluetooth 4.1, and ZigBee connectivity, six-axis inertial sensors, an infrared receiver, a debug port, push-buttons, LEDs, USB ports, and WyzBee THING™ expansion connector. The WiSeMCU module runs an embedded TCP/IP networking stack with SSL/TLS/HTTPS security, apart from complete Wi-Fi, BT 4.1, and ZigBee stacks.
The WyzBee THING expansion headers accommodate a host of other symbiotic devices, with a number of peripherals – called 'Things'—already available from Redpine including audio, GSM, GPS, capacitive touch display, rechargeable battery, and additional sensors. Application development is supported with a choice of development environments—IAR, Keil, and the free CoIDE from CooCox.
The WyzBee platform is supported by the WyzBee IoT Cloud—a Redpine hosted cloud framework that offers flexible and customizable connectivity, analytics, and user interfaces. The RS9113 chipset integrates PUF-based hardware security block that provides for unique, individual device entities – ensuring that each IoT device can be individually authenticated and software delivered to it that cannot run on any other device.
The WyzBee platform also includes WyzBee Workbench, a unique debug tool that addresses a common debug need that arises when engineers validate systems that communicate with the cloud. This tool is integrated into the development environment offered for WyzBee and provides a comprehensive debug analysis of data traffic between the device and the cloud. This Enhanced Debugger includes the capability of analysing all transactions with the cloud, including secure SSL protected exchanges.
Executive Comment
"With the new WyzBee platform, we are removing multiple layers of complexity and cost in product development while giving product and application developers everything they need in a compact solution to jumpstart their IoT device or application," said Venkat Mattela, chief executive officer of Redpine Signals. Redpine Signals doesn't just want to enable the Internet of Things, we want to unify the IoT maker process from product development to the customized cloud and application software."