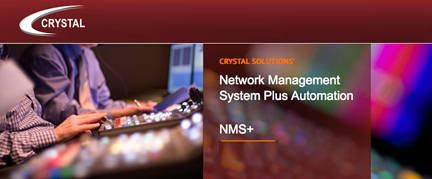 [SatNews] Crystal Solutions will be launching Crystal Solutions Connect(tm) at the National Association of Broadcasters Show (NAB).

Crystal Solutions Connect™ is a content substitution tool for multiple distribution paths. Crystal Solutions Connect™ solves the complexity of handling multiple distribution paths and the associated variety of downstream functionality, such as inserting regional or local content, overlaying graphics or crawls, or modifying local ratings information. Connect™ collects stimuli from various sources, interprets the received codes, and then commands the appropriate uplink or downlink-based equipment as needed. Connect™ also collates all actions into one simple-to-use User Interface.

"The life of a Programming Provider has become significantly more complicated in the last decade," said Roger Franklin, President and CEO, Crystal Solutions. "Programming now needs to be sliced and diced for different segments of the audience. This often involves multiple Control Systems downstream, leading to complex scenarios. Connect™ helps manage that complexity and reduces the likelihood for error."

The Connect™ system is fully redundant. It is available as a standalone product or as an optional component of the Crystal NMS+ system. Crystal Solutions is sponsoring the World Teleport Association's Executive Dialogue Series during NAB, which provides WTA members with opportunities to share their viewpoints, experience and technical knowledge with a global audience. WTA will once again conduct video interviews with executives of WTA member companies in the Distribution area of the NAB show floor. The videos will be available for viewing on the WTA and NAB Web sites following the show.

Crystal Solutions will be exhibiting on booth SU11707 at NAB from April 7th – 10th, 2014, as well as at Satellite 2014 from March 11th – 13th in booth #8064. Crystal Solutions' President and CEO, Roger Franklin, will also be presenting a paper at NAB on Network Monitoring and Diagnostics for Video on Tuesday, April 8th at 4:30 p.m.
To learn more about Crystal Solutions, please visit their infosite at http://www.crystalcc.com/