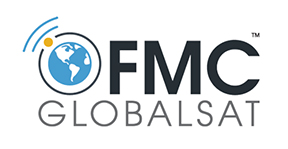 FMC GlobalSat has deployed the world's first use of the Kymeta software-steered satellite antenna aboard a sportfishing yacht, delivering highly reliable and secure satellite and wireless network access through its 4G/LTSAT service.
Through this solution, the award-winning S.Y. Bad Daddy, a 76-foot Spencer, has global access to FMC GlobalSat's 4G/LTSAT converged communications platform to receive uninterrupted network connectivity in port and at sea. The solution aboard the S.Y. Bad Daddy leverages a Kymeta VSAT flat panel antenna integrated with FMC GlobalSat's portfolio of satellite and 4G wireless services.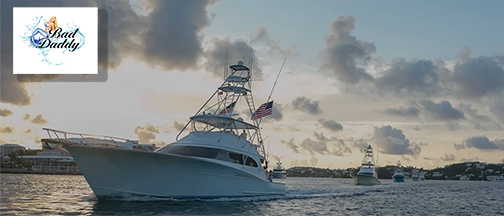 Based in Miami Beach, S.Y. Bad Daddy operates along the Florida coast, the Bahamas, Bermuda, and into the mid-Atlantic. The yacht, captained by Jason "Tiny" Walcott, provides leisure and competitive sportfishing excursions to teams and owners. S.Y. Bad Daddy is recognized as one of the region's foremost sportfishing vessels, recently claiming the 2018 Largest Blue Marlin captured in the Bahamas Tournament Series and the 2018 Lady Angler in Bermuda Billfish Blast.
Through the onboard FMC GlobalSat Customer Portal application, Walcott has real-time internet access enabling him to view maps and reports that include air pressure, temperature, waves, ocean currents, wind, clouds, rain and lightning while underway. Most sportfishing operators offering this level of detail typically use data from the previous evening — limiting accuracy and value. This level of visibility not only gives S.Y. Bad Daddy owners and teams an enhanced fishing experience and competitive advantage, but also helps ensure safety while at sea.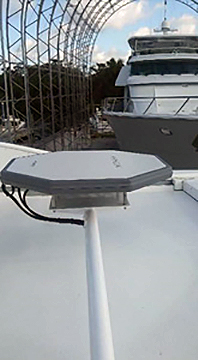 The 4G/LTSAT system provides seamless wireless roaming service in all ports of call without the need to switch SIM cards or register with a new carrier. The platform maintains 4G wireless and HTS (High Throughput Satellite) connections at all times, and automatically switches traffic to the path with the strongest signal without any intervention.
FMC GlobalSat's 4G/LTSAT service bundles all software, hardware, and network access into a single usage-based subscription model that is simple to deploy and cost-effective for many applications. The installation aboard S.Y. Bad Daddy includes the first use of a Kymeta software-steered flat panel antenna for satellite communication on a sportfishing vessel. Through FMC GlobalSat's unique subscription model, the Kymeta VSAT antenna is included in the bundle, enabling S.Y. Bad Daddy to leverage its advanced technology in an affordable package.
Executive Comment
Walcott said that the company's success revolves around rigorous planning that incorporates information on weather, water conditions and currents, which helps the firm to plan the most productive route for the company's outings. Prior to the use of the FMC GlobalSat converged 4G/LTSAT technology, the company had no option other than relying on data that was received the night before. This technology, including both instant internet access and FMC GlobalSat customer applications, completely changes the way the vessel operates, as there is now constant access to crucial information that will locate the best fishing spots, avoid adverse weather and deliver a much better overall fishing experience."
Emmanuel Cotrel, CEO for FMC GlobalSat, noted that the company believes the 4G/LTSAT solution can be a game-changer for private vessels that want full-time broadband connectivity. Existing satellite connectivity employs expensive and heavy hardware, expensive flat-rate access fees as well as high maintenance for moving parts. The firm's offering is self-contained and maintenance-free, has no moving parts, weighs less than 100 pounds, and maintains a connection uptime in excess of 99.99 percent. Most of all, the entire service is provided as a subscription, delivering both value and cost-certainty to the sportfishing and yachting industries.