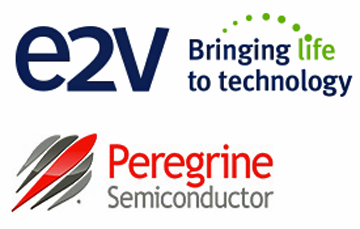 Designed for commercial space applications is the new PE97640, an ultra-low phase noise FRAC-N phase-locked loop (PPL) from e2v and Peregrine Semiconductor Corporation.
Available exclusively through e2v, the PE97640 is the first new space product since e2v and Peregrine signed a strategic reseller agreement last February. Built on Peregrine's radiation-tolerant UltraCMOS® technology, the PE97640 will be manufactured and qualified by e2v.
Designed for commercial applications and capable of performing in harsh space conditions for more than ten years, the PE97640 is naturally radiation tolerant and immune to single-event latch-up (SEL), which can occur in space and cause severe damage. This PLL utilizes a low power consumption of 75 milliamperes at 2.7V, enabling RF system engineers to better allocate power resources.
The PE97640 has a FRAC-N frequency synthesizer that generates multiple output frequencies from a single reference input frequency. The divided-down output then enables reference and phase detection at a lower frequency, handling both frequency and phase lock. With superior phase noise performance, the PE97640 offers RF engineers high signal precision, solid frequency stability and boasts significant performance specifications with both 5/6 and 10/11 prescalers:
According to David Buhaenko, the Director of HPA product development engineering at Peregrine Semiconductor, by aligning the strengths of both organizations, new product introductions are accelerating for UltraCMOS high-reliability space products, such as the PE97640.