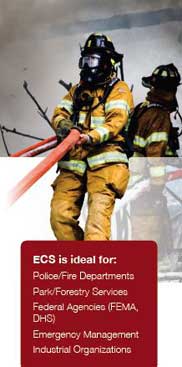 [SatNews] Spacenet Inc., a wholly owned subsidiary of Gilat Satellite Networks Ltd. (Nasdaq: GILT) and a leading provider of networking solutions, announced today that it has introduced its new Emergency Communications Service (ECS). 
The new service offering is designed to
provide a more cost-effective and flexible satellite solution, leveraging an always on pay-as-you-use service plan
with dedicated satellite bandwidth for readily available and reliable emergency communications.
ECS is ideal for
public safety and first responder agencies such as police, fire departments, and medical emergency teams as well as federal agencies such as FEMA and the Department of Homeland Security who require network continuity for disaster planning, but also face the reality of budget limitations.
The new service is being offered
just in time for hurricane season
and provides coverage to virtually all U.S. hurricane-prone regions.
Spacenet has been offering similar solutions to a number of organizations including a recent opportunity to provide satellite equipment and services to the
American Red Cross through a partnership with EchoStar Satellite Services in support of disaster relief efforts in Haiti.
Because
satellite technology can be deployed virtually anywhere and does not depend on local network infrastructure, it has played a large part in the re-establishment of data and voice communications networks during severe weather conditions.
ECS is ideal for organizations in the coastal regions and helps eliminate the risks of network outages during hurricane season, including safety concerns, lost productivity and liability.

"Spacenet's ECS offering was designed to provide a more cost-effective and reliable satellite communications solution for emergency situations," said
Spacenet Vice President of Government Services
Mike Mazza
. "The
Spacenet ECS solution is drastically different than most of the existing part time services available today.
  Most of these services are based on a highly oversubscribed and shared bandwidth model, which can result in poor service quality, especially during emergency situations when multiple users need access.  The
ECS service, on the other hand, includes dedicated bandwidth and service level agreements to ensure a high-quality and reliable solution at a low cost. 
With ECS, customers pay a low monthly standby fee and then only pay for service when or if they actually need it, and more importantly, the service is available when they really need it."
The ECS service is
powered by the field-proven SkyEdge II VSAT technology.
The VSAT router is integrated with mobile auto-deploy antenna systems and can be easily installed on mobile command vehicles and trailers, or at standard fixed locations.
ECS features include a range of service packages with multi-megabit speeds; dedicated bandwidth during deployment; daily or weekly usage service plans; full support for converged data, voice and video applications; and 24 x 7 U.S. based premium customer support.
For more information on ECS and Spacenet's complete line of solutions for hurricane preparedness
visit.