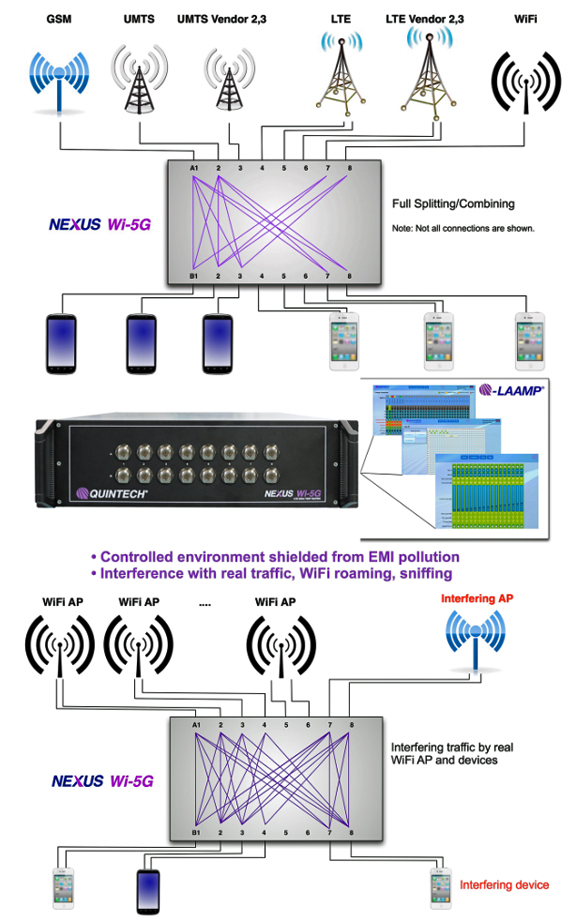 Quintech Electronics & Communications, Inc. has added to their NEXUS Wireless Test Solutions and Matrices the NEXUS Wi-5G Attenuator Test Matrix.
This is the first of its kind: a Test Matrix designed to simultaneously support 2G, 3G, 4G LTE, LTE-A, 802.11, WiFi, and LTE-U frequency bands with 2x2 to 8x8 MIMO connections. Sixty-four fixed and variable attenuators provide up to 90 dB of attenuation that can be used for handover, beam forming, wireless mesh network test and validation of other network equipment and chipsets. Also, 2.4 and 5 GHz WiFi access point interference, VoLTE interoperability, and circuit-switched fallback testing can be made in a controlled environment while isolated from commercial signals.
According to Frank Elling, President of Quintech Electronics, the NEXUS Wi-5G is designed based upon the requirements provided to Quintech from the company's Tier One equipment manufacturers and carrier customers. High power handling along with very high port-to-port isolation is provided across a very broad frequency spectrum from 600MHz to 6 GHz. Quintech's Q-LAAMP software platform provides an intuitive web browser GUI with manual and automated sweep control of the attenuators.