Rohde & Schwarz has expanded their portfolio of mid-range signal and spectrum analyzers.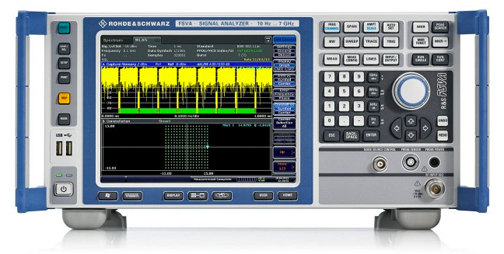 The company's new R&S FSVA offers a 160 MHz analysis bandwidth over its entire frequency range, making it the only analyzer in its class to do so at frequencies between 26.5 GHz and 40 GHz. With its enhanced phase noise performance, the instrument offers users very high accuracy in spectral measurements on narrowband modulated signals and in phase noise measurements.
The advanced features of the R&S FSVA include more than the improved phase noise of typ. -117 dBc at 1 GHz with 10 kHz offset. Rohde & Schwarz also has improved the third order intercept (TOI) for frequencies lower than 7 GHz, for a higher dynamic range. As a result, the R&S FSVA offers enhanced spectrum measurements compared with the current R&S FSV family, e.g. spectrum emission mask and ACLR under higher power conditions. The sensitivity of the preamplifier of typ. -166 dBm for frequencies lower than 7 GHz has also been improved.
Like the R&S FSV, the R&S FSVA is available in five models, covering frequency ranges from 10 Hz to 4 GHz, 7 GHz, 13.6 GHz, 30 GHz and 40 GHz. The R&S FSVA supports all R&S FSV hardware functions and firmware options. Plus, the R&S FSV and the R&S FSVA are fully remote control compatible for use in complex test setups.
The new mid-range R&S FSVA signal and spectrum analyzer is now available from Rohde & Schwarz.
rohde-schwarz.com/product/fsva-productstartpage_63493-192135.html