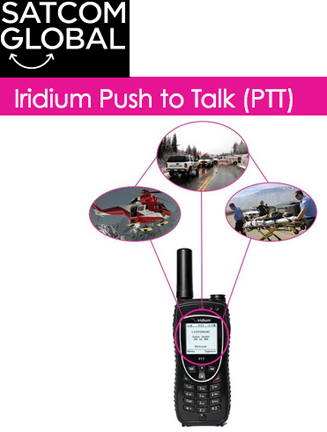 Iridium®'s Push-To-Talk (PTT) Solution has received Satcom Global as an official reseller of this offering.

Iridium PTT is the world's first, global, satellite based, push-to-talk service and enables instant and simple group communications, anywhere at the touch of a button. Satcom Global qualified as one of a select group of communications providers selected by Iridium to deliver the PTT service to market. The company provides vital communications services to users across all continents, including markets where Iridium PTT will play a key role in keeping teams connected such as: oil and gas, mining and construction, emergency services and first responders, NGO's, the military and maritime industries.
Iridium PTT is comprised of three components that work together seamlessly to provide a ubiquitous global solution: the service is delivered through the Iridium LEO satellite constellation; the Iridium PTT Command Center, the cloud-based management system where all radios and talkgroups are managed; and the Iridium Extreme PTT handset. Similar to most commercial and private trunked radio services solutions, Iridium PTT uses half-duplex communication, like a walkie-talkie, where one party talks to other participants in a group who serve as listeners. The pole-to-pole coverage provided by the Iridium® network, as well as advanced security and features, elevates this service far above and beyond what is currently offered today.
In March of 2016, Iridium PTT received further endorsement after winning the MSUA's 'Top Emergency Response Innovation Award' at Satellite 2016. Furthermore, looking to the future of satellite communications, Iridium PTT currently works with Iridium's existing constellation and is also compatible with Iridium NEXT, the company's nexgen satellite constellation, which is scheduled to be completed in 2017.
www.satcomglobal.com/iridium-push-to-talk-ptt