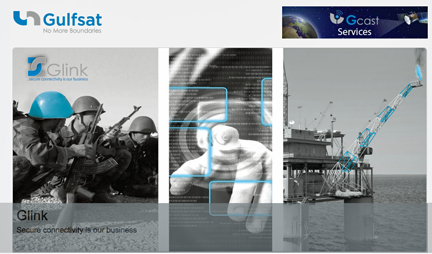 A cooperation agreement between Gulfsat Communications Company (Gulfsat) and the Palestinian TV & Radio Broadcasting Company's Palsat subsidiary has been renewed for a period of two years.
This agreement reaffirms the essential role played by Gulfsat as the third-largest satellite operator and the leading specialized provider of broadcasting and re-broadcasting services in the region. The agreement was signed by Public Authority for Radio and Television General Supervisor and Palsat's Acting Board Chairman, Mr. Ahmed Assaf, and Gulfsat Chairman and Chief Executive Officer, Mr. Mohammed Al-Haj. The ceremony was attended by top executives from both companies.
After signing the agreement, Mr. Ahmed Assaf said that this agreement serves as a confirmation of the Palestinian National Authority institutions' confidence in Gulfsat and the quality of its service, which has enabled Palsat to annex most of the Palestinian satellite channels, provide TV cable services to 11 Palestinian channels, in addition to a group of radio stations via a uniform frequency for the Palestinian bouquet (Palsat).
Mr. Assaf added that the renewed agreement represents a future outlook and convenient opportunity to examine the latest services offered by Gulfsat. This includes the secured communications services that featured an unprecedented interest in the past few years, and can be used between the Palestinian Authority's institutions and embassies of the Palestine State abroad.
Gulfsat Chairman and CEO, Mr. Mohammed Al-Haj, outlined some of the technical and functional advantages related to this package provided by Gulfsat, jamming-free service as well as media content transmission over fiber-optics from Ramallah to the assembly plant (Aggregation Point) of Gulfsat, based in London, then to the Rambouillet station in Paris for rebroadcast to the MENA over orbit slots of 7 and 8 degrees that neighbor Nilesat.
Mr. Al-Haj added that the agreement renewal is of great importance, reaffirming the strategic partnership that links Gulfsat to the Palestinian National Authority and its affiliates in both public and private sectors. It opens a wider range of possibilities in providing other parallel services added to the satellite broadcast and media, including secured communications services, while supporting the company's operational activities and enhancing future revenues at the same time.
In regard to the geographic trends that the management focuses on, Mr. Al-Haj explained that Gulfsat is currently concentrating on promoting services in North Africa and African countries in general, given the fact that these markets offer great opportunities of growth for TV broadcasting services. He stressed the importance of the central role played by the company, through its five broadcast stations, with the main station located in Umm Al-Haiman (Kuwait) and the others in Cyprus, Slovenia and New York, in addition to their center stations in London—he added that the company has more than 37 countries around the world and is the third largest satellite operator in the region.