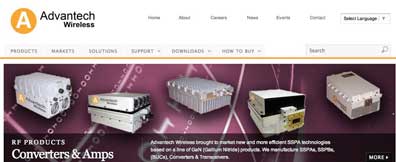 [SatNews] Financial reports can be a real challenge in this world's economic picture, but Advantech Wireless has a positive announcement.
Advantech Wireless, a privately-held Canadian corporation announced today that it has posted a record $17 Million profit for the year ending April 30, 2011, compared with a $4.5 Million loss the year previous.
The year was highlighted by
successful sales across all product lines
— Satellite Modems, RF Transceivers, Converters, LNAs, BUCs and Solid State Power Amplifiers; as well as systems and solutions: Terrestrial Microwave Point-to-Point Radios; high performance Ruggedized Routers, and VSAT Hubs and Terminals, including deployable integrated antennas.
The company also benefited this year from corporate consolidations and expanded development and support facilities to better service customers.
"Improved margins and sales, combined with our substantial investment into innovative new products and cost-reduction efforts, have significantly added to the bottom line, all this in spite of the almost all time high value of Canadian dollar, our functional currency."
remarks
David Gelerman
,
CEO Advantech Wireless.
"In addition, we have
revitalized our international sales force, rebranded our products
and services, secured the future by reinvesting up to 18 percent of our gross revenues into research and development and have reduced our corporate debt by 70 percent, as it became due, from over $41 million to just over $12 million over the last three years."
Advantech Wireless expects to continue this trend with major growth in 2011. Having succeeded in increasing more profitable sales, curtailing costs, signing a new three year labor agreement with its engineers, opening a new facility in Ontario to serve as a Research and Development Centre of Excellence to explore next generation wireless technologies and products and posting record profits, Advantech Wireless is well on its way to another great year.
Mr. Gelerman further elaborates: "We will continue our relentless effort to further increase profits and sales, continue to introduce new solutions and systems; constantly improve customer service and support, and therefore delight our customers and stakeholders with the new level of corporate performance.
Advantech Wireless has always been at the forefront of new technologies. Our groundbreaking RF products, VSAT DVB-RCS Hubs and Terminals, Enhanced High Performance Modems, High throughput Ruggedized Routers and Point to Point Microwave Radios are best in class!"