Managing, supporting and optimizing IP networks and hybrid networks is no simple chore... to ease this task, Bridge Technologies is launching their NOMAD tool during IBC2016 at Stands 1.F68 and 14.J05 to assist in this endeavor.
NOMAD is a highly portable, self-contained and versatile network probe and covers all of the monitoring requirements of hybrid IP multicast, OTT and RF networks, and provides every conceivable interface for media signal monitoring and analysis with DVB-S/S2 satellite signals with even advanced external 1PPS GPS time-reference, Gigabit Ethernet, ASI In/Out, DVB-C QAM cable, and DVB-T/T2 COFDM terrestrial. NOMAD is specifically designed to improve the efficiency and effectiveness of those who do not have an in-depth understanding of moving content over IP.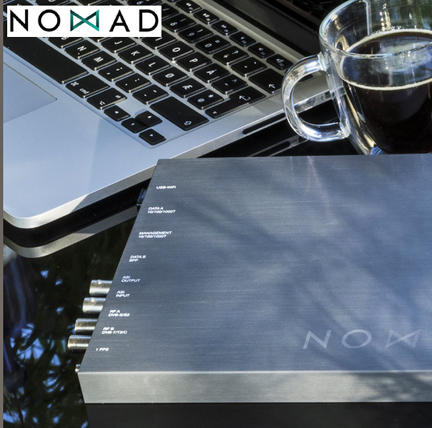 As well as broadcasters and network operators, potential users could include corporate facilities managers responsible for a videoconferencing network; retail, leisure and hospitality professionals who manage IPTV systems; or those in the defence industry charged with ensuring the timely and accurate distribution of video within and between vehicles. Through its unparalleled ease of use, NOMAD provides novice users with instant understanding of the behaviour of any OTT network.
The unit is also a Wi-Fi zone; by pointing a laptop towards NOMAD, it is ready for use without further configuration, representing the ultimate in ease of set-up. This capability also makes NOMAD a completely self-contained, autonomous solution without the need for an external host system.
NOMAD is characterized by the unit's small size and light weight (around the size of two tablets, one on top of the other) for extreme portability. The unit is cut from a single block of high quality aluminum, CNC-milled to a precision of 10 microns with laser-engraved logotypes. Recessed rubber feet make it appear to hover 0.2 mm above a surface. The unit is also rugged and capable of being deployed in the harshest, most challenging environments. This is a function of its uniquely durable construction, together with cooling that ensures heat from its powerful processors is dissipated via the aluminum chassis. NOMAD may also be left unattended, with a built-in alarm-triggered recording facility (32GB of Flash memory is included) which means that errors can be captured for later analysis.
Built in to NOMAD is Bridge Technologies' patented MediaWindow™ user interface, giving easy visibility into, and understanding of, packet streams, providing unequalled simplicity of confidence monitoring. NOMAD can be simply accessed via any web browser.

According to Simen K. Frostad, Chairman, Bridge Technologies, NOMAD is the culmination of Bridge's 12 years of experience in designing the ultimate probe functionality for network monitoring and analysis and includes everything the company knows about IP and RF. This is the Swiss Army knife of digital media, he added, containing everything a user could need in almost every conceivable circumstance.