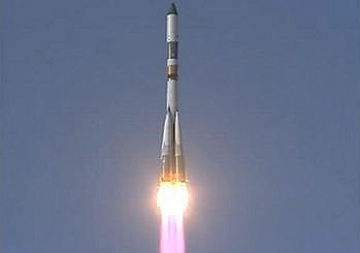 [SatNews] Supplies are en route to ISS with a successful Soyuz-U launch...
A
Soyuz-U
carrier rocket with a
Progress M-13M
cargo spacecraft blasted off from the
Baikonur Space Center
in
Kazakhstan
to deliver supplies to the
International Space Station
, Russia's Federal Space Agency
Roscosmos
said on Sunday. "The launch took place at the designated time - 14:11 Moscow time (11:11 a.m. GMT)," Roscosmos said in a statement. The Progress space freighter will deliver food supplies to the world orbiter's crew and a small satellite,
Chibis-M
, to study lightnings and thunderstorms in the Earth's atmosphere, Roscosmos said. At 14:20 Moscow time, the Progress M-13M space freighter separated from the third stage of the Soyuz-U carrier rocket, Roscosmos said.
The previous space freighter,
Progress M-12M
, which was intended to deliver supplies to the world orbiter, was lost on August 24th and fell in south Siberia after failing to separate from the Soyuz-U booster as a result of a rocket engine failure. The crew of the International Space Station currently comprises
NASA
astronaut
Michael Fossum
, Russian cosmonaut
Sergei Volkov
, and Japanese astronaut
Satoshi Furukawa
. They are expected to return to the Earth aboard a Soyuz carrier rocket on November 22nd. (Source:
RIA Novosti
)