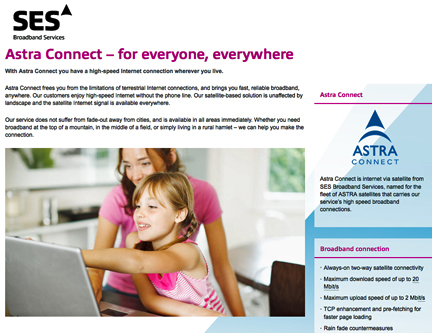 [SatNews] Astra Connect, by SES Broadband Services, is to be used by French ISP Connexion Verte to launch Cverte, a new and innovative 20Mbps competitive satellite Internet service available across France—the new service allows for unlimited downloads at night and has adaptable service plans that can be altered by SMS.

It is the first service of its kind in France to offer all these features at a rate of only 29.90 Euros per month and will be distributed exclusively by GPDIS Group, which includes Andom, Pulsat, Compétence and Avelis Telecom. This partnership with SES Broadband Services will allow for tens of thousands of homes not served by major operators to access a high quality Internet connection over satellite. In order to set up the connection, end users only need a satellite connection kit, which is 70 percent subsidized by France's local authorities (departments). The service can be paid for in one go or in monthly payments and professionally installed by one of a network of partners covering the whole of France.

"We are pleased to provide an easily adaptable, economically and technologically responsible solution offering up to 20Mbps and unlimited night-time usage. Cverte offers a new type of service which is tailored to each individual consumer's needs with real-time consumption monitoring. With our contract and our clear commitment charter, we are setting an example by introducing transparency and commitment. Every customer will be able to know how much they use," said Benoit Defoug, CEO of Connexion Verte.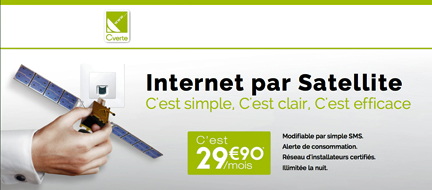 Users wishing to have the service will be required to sign up for an initial contract of one or two years, but after that time period, are free to cancel at any time. They can also change their subscription at any time via SMS, see how the local network is performing via an online portal, as well as access print facilities and parental controls via mobile devices.

"With Astra Connect we are able to provide high quality reliable broadband to further reduce the digital divide. We share Connexion Verte's vision, values and commitment and we look forward to providing an efficient and highly competitive solution for rural and underserved areas across France," said Patrick Biewer, Managing Director of SES Broadband Services.

Cverte is a new generation of service able to provide users with all the tools to allow real-time consumption monitoring with alerts to warn if the user is approaching their contract limits. This new model is designed to encourage end users to take an economically and technologically friendly approach. It enables end users to substantially reduce their subscriptions, especially for second homes.
For further information regarding SES, please visit http://www.ses.com/
For details regarding ASTRA Connect, head over to http://www.ses-broadband.com/10338323/about-astra-connect
To learn more about Cverte, that infosite is located at http://www.cverte.fr/