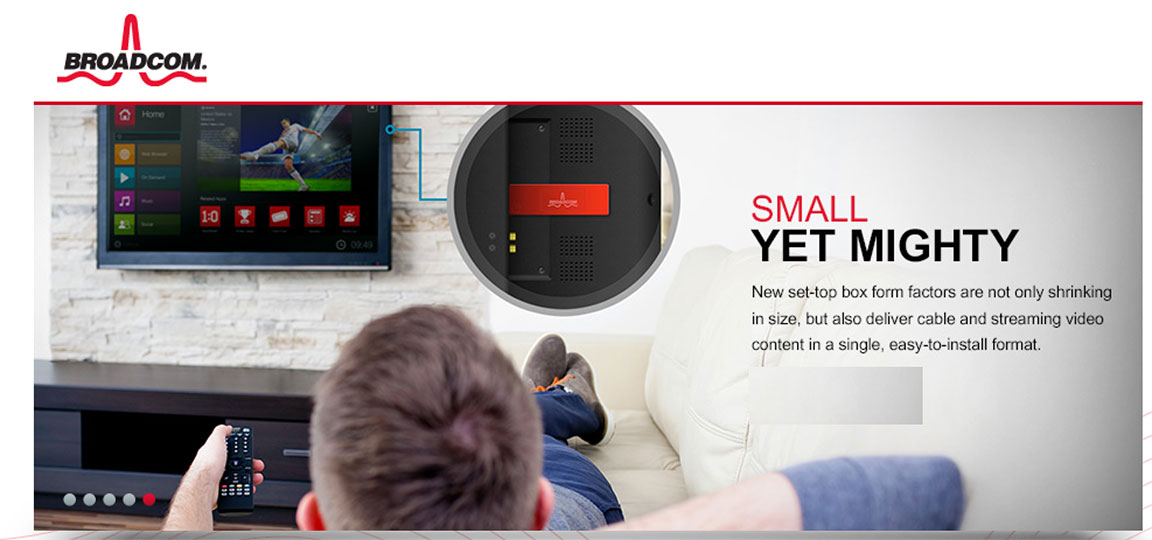 [SatNews]
Broadcom Corporation
(NASDAQ: BRCM) has introduced two new system-on-chip (SoC) devices to provide mobile access carriers with industry-leading capacity and spectral efficiency to boost existing microwave backhaul infrastructure.
The new SoCs are the first to deliver 5 gigabit per second (Gbps) speeds and deliver a 4X increase in spectral efficiency1 of 48 bps/Hz. Broadcom will showcase its innovations for the mobile and carrier ecosystem at Mobile World Congress in Barcelona, March 2-5.
Broadcom's two new SoCs are each designed to support the growing surge in data traffic over the wireless network. With more than six billion people communicating over cellular networks2 and the growth of mobile services such as 5G and LTE, optimization and efficiency in the backhaul is essential and a more efficient technology can deliver greater capacity over the same spectrum.
Ran Soffer, Broadcom General Manager of Microwave, said, "Our newest offerings provide mobile access carriers an increase in capacity over the same spectrum band in a modular and flexible way."
Broadcom's BCM85650 features integrated cross-polarization interference cancellation (XPIC) and line-of-sight multiple-input and multiple-output (LoS-MIMO) functionalities to boost spectral efficiency. Innovative integrated LoS-MIMO technology significantly eases carrier deployments by supporting flexible antenna placement and reducing external connection and hardware requirements. The BCM85650 includes a dual-core wideband modem and supports advanced channel aggregation functionality for flexible and efficient capacity doubling. It also delivers 4K-QAM (quadrature amplitude modulation), the industry's highest modulation available today.
The Broadcom® BCM85820 enables capacity and spectral efficiency gains through integrated support for XPIC, MIMO, 4K-QAM modulation, 112MHz channels and channel aggregation functionality. The BCM85820 employs advanced digital RF correction mechanisms, such as adaptive digital-pre-distortion (ADPD) functionary to achieve high system gain. The highly-integrated BCM85820 includes full transceiver as well as synthesizer components.
Michael Howard, Infonetics/IHS Principal Analyst, said, "Improving customer experience is dependent on satisfying growing mobile backhaul demands, and this requires new technology, such as higher spectral efficiency and flexible frequency bands—which achieve lower cost per bit when supporting more users at higher speeds. We expect that equipment manufacturers and mobile operators will appreciate Broadcom's latest SoCs deliver more capacity and coverage into the mobile network."
Broadcom's new offerings enable carriers and telecom equipment manufacturers to enjoy a modular and flexible system design with a "pay-as-grow" architecture, supporting capacity doubling with XPIC or carrier aggregation and capacity quadrupling with XPIC + carrier aggregation or XPIC + MIMO.
Key Features
5 Gbps capacity
48bps/Hz spectral efficiency
Integrated XPIC, LoS-MIMO and Advanced Channel Aggregation functionality
Modulation up to 4K-QAM
Wide channels up to 112 MHz
High system gain using Digital RF correction (e.g. Adaptive DPD)
Modular and flexible system architecture
Highly integrated: dual-core, DSP, digital tuner, IF, MIMO, XPIC, full transceiver, synthesizers