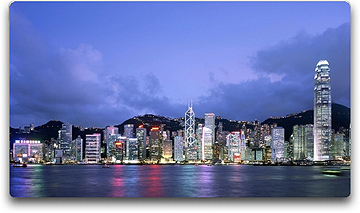 Coming to a neighborhood near you, if you live in Hong Kong —Vizada, a provider of global satellite communications, will open a network point of presence (PoP) in Hong Kong to offer Asia-Pacific customers a closer access point for mobile satellite communications traffic.
The PoP, commercially available in
June 2009
, will enable Vizada customers in the region to
terminate all mobile satellite data traffic locally, reducing traffic transmission distances and times
. The Hong Kong PoP is the latest addition to
Vizada's Global Backbone
which now comprises access points in six locations around the world
(Amsterdam, Aussaguel (France), Hong Kong, London, New York City and Oslo)
. It is an integral part of Vizada's strategy to provide customers with a superior mobile satellite service in a region where demand for remote communications services is on the increase. Vizada
currently has a network of 50 Service Provider partners in Asia-Pacific, offering local market knowledge and expertise as well as native-speaking support to end users with two local offices, in Hong Kong and Singapore.
Photo courtesy of Hong Kong Tourism Board
Customers also benefit from direct access to
Vizada's own broadband IP & Networking solutions at the PoP
, including the
TerralinkTM family
.
Vizada's TerralinkTM Interconnect
solution offers a range of networking technologies (IP-Sec, ISDN, leased line, etc.) to suit companies' varying data connectivity requirements in terms of quality and security. In addition,
TerralinkTM Data Manager is a free online tool enabling customers to better manage data traffic on multiple mobile satellite services, including personalized firewall configuration, usage monitoring and access/rights management.
According to the Euroconsult (www.euroconsult-ec.com)
"World Mobile Satellite Communications Markets Study"
(2007), mobile satellite subscriber growth in the Asia-Pacific market is set to increase at a five-year consolidated annual growth rate (CAGR) of approximately 25 percent to over 390,000 terminals by 2012. This includes mobile satellite terminals based on the systems of Inmarsat, Iridium and Thuraya, all part of the Vizada Product Portfolio.
"Our Hong Kong PoP is a crucial part of our offering in this region," said
Vivian Quenet
,
Sales Director, Asia-Pacific
. "Our local network presence, combined with offices in Hong Kong and Singapore, and 24/7 global customer care, all form an industry-leading mobile satellite service."