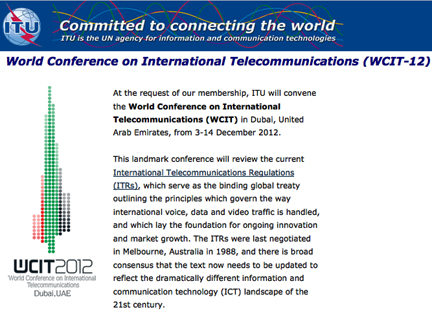 [SatNews] The World Conference on International Telecommunications (WCIT-12) will be held in Dubai, United Arab Emirates...
...from December 3—14, 2012, to review the current International Telecommunications Regulations (ITRs), which were last negotiated in Melbourne, Australia, in 1988. The current ITRs serve as the binding global treaty outlining the principles which govern the way international telecommunication services are handled, and which has laid the foundation for ongoing innovation and market growth. There is broad consensus that the text now needs to be updated to reflect the dramatically different information and communication technology (ICT) landscape of the 21st century. A special briefing session for civil society and other interested stakeholders will be held at ITU headquarters in Geneva.
The open briefing session will provide an overview of the WCIT-12 conference, the preparatory process, and the main principles and issues being discussed. The briefing will be followed by an interactive Q&A Session and will be conducted by ITU Secretary-General Hamadoun I. Touré and ITU experts. The draft of the ITRs)is available on the ITU website. A webpage has also been established where anyone can express their views and opinions on the content of the draft of the future ITRs or any other matter related to the 2012 World Conference on International Telecommunications (WCIT).
Online registration is required to attend this event whether via remote participation or presence in the room. Please find the necessary links for online registration in this invitation letter from the ITU Secretary-General: http://bit.ly/QqHxqO. A live webcast is available at www.itu.int/wcit.