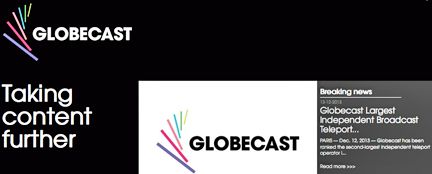 [SatNews] At NAB 2014, Globecast is highlighting Globecast XN, a key element of its suite of solutions for broadcast clients—Globecast XN allows users to quickly and easily expand their content to new market audiences around the globe using the public Internet network.
This cost-effective solution can be quickly deployed to answer a variety of requirements including: delivering live channels to IPTV and OTT platforms; expanding into new markets whilst limiting risk; significantly reducing backup link costs; collecting feeds from event sites and delivering to the broadcaster; and quickly setting up a last mile solution where dedicated fibre is unavailable. Globecast XN assures end-to-end terrestrial transport delivery via the public internet and can also be combined with a dedicated fibre network solution. It provides a one-stop-shop for content owners as Globecast monitors and maintains all of the equipment required. Based on Globecast's knowledge and experience Globecast XN enriches the company's portfolio by increasing business choices and opportunities.
Globecast uses the best of satellite, CDNs, dedicated fiber and public Internet to make certain that broadcasters' and media companies' content is where it should be when it should be, correctly packaged and formatted. The company provides multiplatform, multi-device services using its years of experience and business acumen to create the perfect packages for its customers. Present in Europe, the Americas, the Middle East, Asia, Africa and Australia, Globecast offers simplicity, flexibility and peace of mind to the world's leading content providers.
For further information, please visit the Globecast infosite at http://www.globecast.com/web/index.php