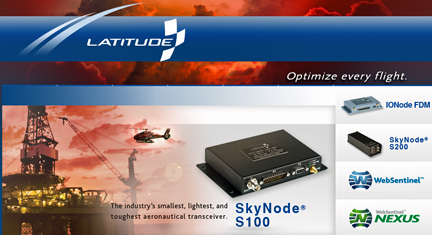 [SatNews] Latitude Technologies has announced that HeliQwest Aviation Inc., headquartered in Villeneuve (Edmonton), Alberta, and HeliQwest International Inc., headquartered in Broomfield, Colorado, have taken delivery of Latitude's full HFDM (helicopter flight data monitoring) system for installation on HeliQwest's rotorcraft fleet.
The Latitude HFDM system selected by HeliQwest includes the IONode ION100-003A lightweight flight data recorder, the SkyNode S100 SATCOM data and messaging transceiver, WebSentinel, Latitude's web-based flight tracking and mapping application, and the Latitude Flight Data Analytics platform for post-mission analysis of all flight data from every flight of aircraft with the HFDM system on-board.
Latitude Technologies Corporation, headquartered in Victoria, British Columbia, is a vertically integrated manufacturer and provider of flight data, flight following, and satellite communications equipment and services. The company's IONode™ is the industry's first lightweight flight data recorder and advanced data acquisition unit, capable of real-time event and exceedance alerts and automated post-flight data transfer. SkyNode and IONode STCs are available for hundreds of airframe types. Latitude provides reliable and secure aviation data and communication options for crew safety, fleet logistics, and operations and maintenance efficiency with the WebSentinel™ flight data management platform and the Latitude Flight Data Analytics dashboard, both web-based for desktops, dispatch centers, and mobile devices.
For further information, please visit.