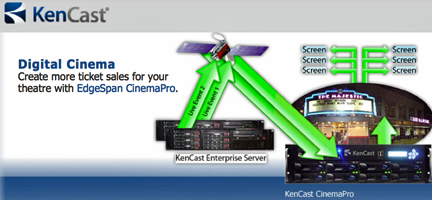 [SatNews] KenCast will exhibit their latest digital cinema, as well as signage and mobile video solutions at 2014 NAB Show® in Las Vegas.
Delivering content for the military, government agencies and news media for two decades, KenCast continues to enhance its offerings to meet the latest requirements in digital cinema and even those of the future with their EdgeSpan CinemaPro appliances.

KenCast will feature a privately held 4K ad-splicing technology demonstration with Audience Response System (ARS) for cinema, at this year's NAB exhibition, showing how theater exhibitors can splice national or local advertisements into a live stream. KenCast has worked in conjunction with CEO Bill Milling of the American Movie Company, operator of a top video production studio in New York City, creating a sizzling demo of 4K technology for the big screen that explores the movie theater viewing experience of the not-too-distant future—what you might view from the seat of your local cinema within the next few years. The demo's live streamed musical performance features musicians from the MET Opera Orchestra and other internationally acclaimed artists, streaming a performance of chamber music from the Rye Presbyterian Church in Rye, New York. In addition, the demo will illustrate how exhibitors can get immediate feedback during/after live events via an audience response system.

The demos will be held in our private conference room (at Booth SU6702) at the following times:
10:00 a.m., 2:00 p.m. and 4:00 p.m., Monday, Tuesday and Wednesday (April 7th, 8th and 9th)
10:00 a.m. only on Thursday, April 10th
To reserve your space at one of our private demos, please contact Peggy at (203) 359-6984.
In addition, KenCast will be exhibiting their new and updated product line at NAB:
Digital Cinema (CinemaPro 3RU, 2RU & 1RU appliances)
Signage and Distance Learning
Video and data streaming software (VazztPitcher)
The KenCast infosite is located at http://www.kencast.com/