Hiltron Communications has added to their product family with a new offering that is based on their HMAM three-axis motorized antenna mount — the new Super-HMM is designed and built to accept substantially larger reflector dishes.
The Super-HMAM includes high-grade drives for azimuth and elevation plus a high-accuracy polarization drive and is fully compatible with Hiltron's standard HACU antenna positioning system. A combined head and drive are incorporated, forming a three axis motorized system with 180 degrees of azimuth adjustment, 90 degrees of elevation adjustment range and fully adjustable polarization. Positioning accuracy is +/- 0.02 degrees and position-display resolution is 0.01 degrees.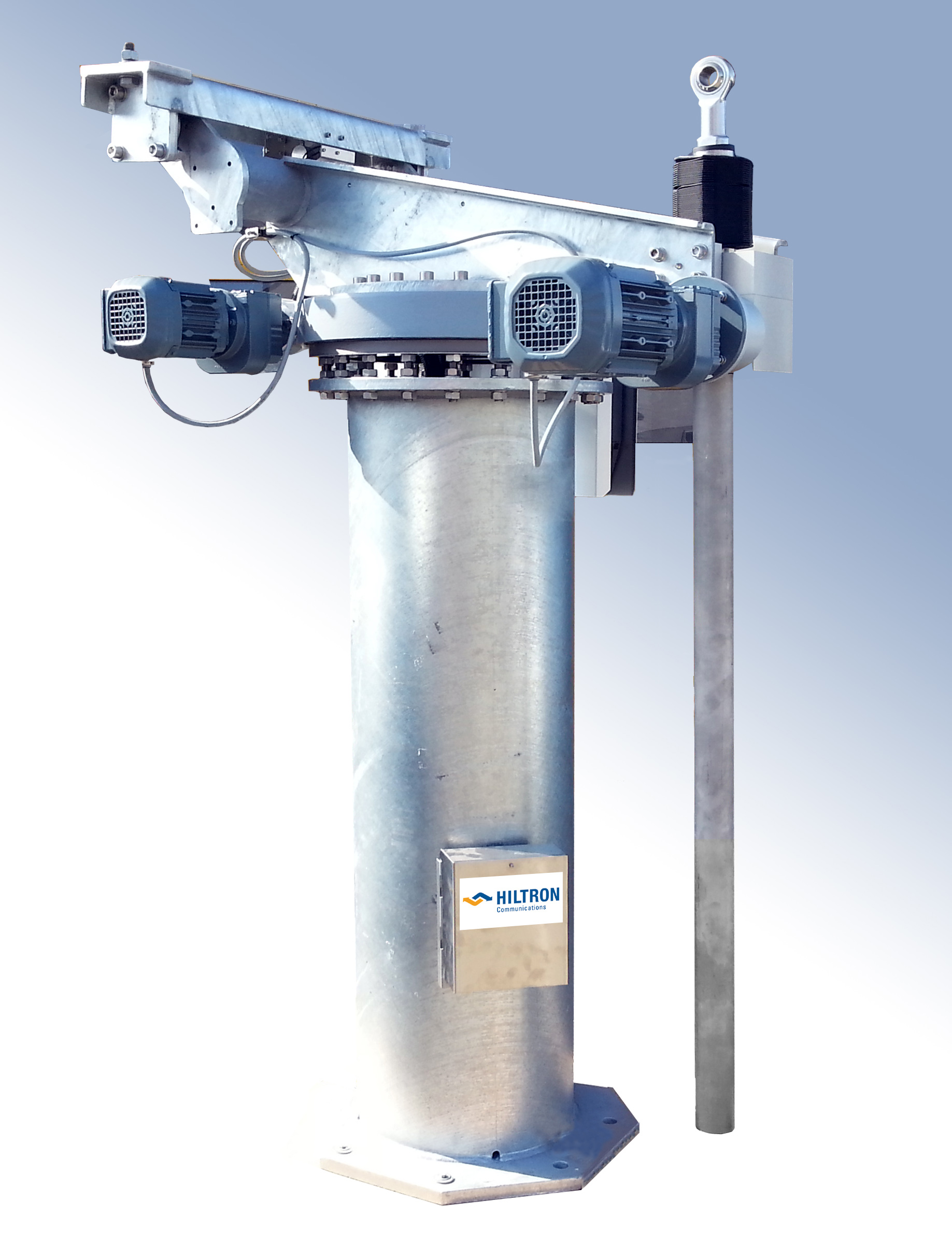 The antenna control unit and associated motor-control electronics are contained in an IP65-rated weatherproof outdoor housing with a hinged front access port secured by dual key screws. An emergency cut-off switch is easily accessible. Above the housing is a resolver which is used to measure the azimuth angle of the antenna. An identical second resolver allows constant monitoring of antenna elevation. Azimuth and elevation drive motors each operate through a reduction gear.
Super-HMAM can be controlled via an IP link from a PC running a graphic user interface compatible with standard web browsers. The control GUI displays all the information required to set and maintain azimuth, elevation and polarization, including current position and target position plus a database of potentially accessible satellites. Once a satellite is selected, precise access parameters can be calculated at the press of a single button.
The entire antenna support system is built to withstand standard atmospheric pollutants and to operate at humidity levels of zero to 95 per cent over a temperature range between 25 degrees (optionally 55 degrees) down to -25 degrees Celsius. Additional protection can optionally be provided to withstand pollutants such as salt encountered in coastal and industrial areas. The rotating pedestal mount is made of corrosion-resistant hot-dip galvanized steel.
According to Hiltron sales director Antonio Monteverde, the standard HMAM is extremely robust and designed to operate with reflectors of 1.2 to 2.7 meters diameter on mountain-top transmission sites where wind speeds can exceed 200 kilometers per hour during storm conditions. Super-HMAM has a newly developed support structure which can survive wind speeds well in excess of this figure, with antenna sizes of up to 4.9 metres diameter. Super-HMAM retains all the features that have made HMAM the preferred choice for two-way VSAT communication or receive only downlink applications in the broadcast, telecommunication and military sectors.