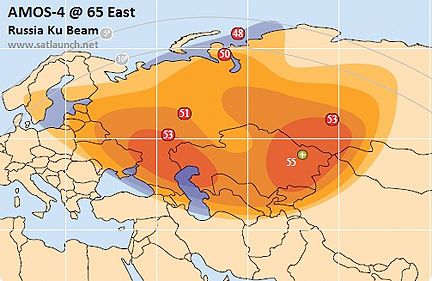 [SatNews] Spacecom (Tel Aviv Stock Exchange: SCC), the operator of the AMOS satellite constellation, has announced that its...
...AMOS-4 communications satellite is scheduled to launch to the 65 degrees East orbital position in the second quarter of 2013. AMOS-4's multiple Ku- and Ka-bands will service broadcast and broadband needs within the Russian, Indian subcontinent, and Middle Eastern markets. The newest addition to the AMOS constellation will have Ku-band and high-power Ka-band transponders with steerable beams. These Ku- and Ka-band transponders will create a powerful platform enabling a wide range of cross-region, cross-band and cross-beam connectivity options to reach the vast urban and rural areas of these regions. AMOS-4 will provide extensive broadcast and broadband reach for satellite services, including DTH, video distribution, VSAT communications and broadband Internet.
AMOS-4 is scheduled to have a 15-year lifespan and is being constructed by Israel Aerospace Industries (IAI). When the satellite begins commercial operations, Spacecom's constellation will cover the entire eastern side of the globe.