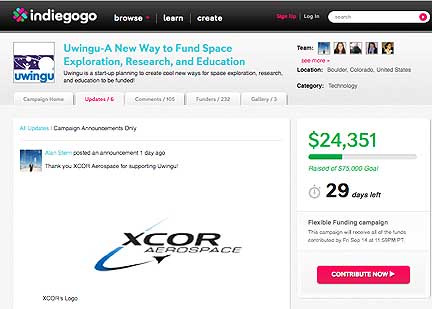 [SatNews] XCOR Aerospace has become a corporate sponsor of Uwingu LLC's crowd-sourcing...
...campaign to generate funds to launch its first web-based products. Uwingu is a space-themed, for profit start up seeking crowd-sourced funding to launch an ongoing series of public engagement projects. Uwingu's mission is to use proceeds from those projects to generate funding for space exploration, research, and education efforts around the world. Uwingu's crowd funding agent is IndieGoGo, a leader in the field.
Uwingu (which means "sky" in Swahili, and is pronounced "oo-wing-oo") was formed by a team of leading astronomers, planetary scientists, former space program executives, and educators. Included in the company's portfolio of space heavyweights are space historian and author Andrew Chaikin, space educator Dr. Emily CoBabe-Ammann, citizen science leader Dr. Pamela Gay, author and museum science director Dr. David Grinspoon, planet hunter Dr. Geoff Marcy, planetary scientist and aerospace executive Dr. Teresa Segura, planetary scientist and former NASA science boss Dr. Alan Stern, and planetary scientist and CEO of the Planetary Science Institute, Dr. Mark Sykes.
"I can't begin to say how proud we are to have XCOR Aerospace as a corporate sponsor. XCOR is known for showing leadership in the commercial space field, and this sponsorship is further evidence of that. XCOR Aerospace is also showing it really cares about space science and education by helping Uwingu get started so it can support space research and education through grants to researchers and educators," said Dr. Alan Stern, Uwingu's CEO.
"The recent Mars Curiosity landing and the emergence of new commercial space companies has created the excitement and the right price points to accelerate the educational impacts that Uwingu may achieve, and we're happy to do our smart part to help them succeed," said Andrew Nelson, XCOR's Chief Operating Officer.
Uwingu will employ novel software applications to "game-ify "space, and targeting up to half of the proceeds going toward space research and education.