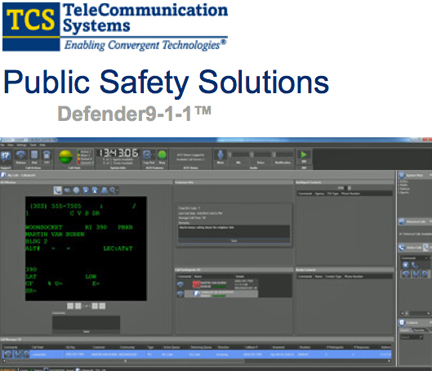 [SatNews] TeleCommunication Systems, Inc. (TCS) (NASDAQ: TSYS) has announced the availability of its Defender9-1-1™ Public Safety Answering Point (PSAP) call handling solution.
Defender9-1-1, the next generation of TCS' X-Solution™ product line, features advanced capabilities, improved performance, scalability and availability. Its enterprise-grade components are compliant with National Emergency Number Association (NENA) i3 standards, and present modular and cost-effective configurations for public safety agencies of all sizes.
Feature set:
Compliance with Next Generation 9-1-1 (NG9-1-1) NENA i3 standards enables PSAPs to receive text messages, photos and streaming video to enhance responses to emergency calls.
Defender9-1-1's feature-rich suite is Internet Protocol (IP) and Geographic Information System (GIS)-centric, providing accurate caller information and location for the dispatch of emergency services.
In-memory distributed cache architecture can span multiple servers, resulting in greater stability, faster performance, improved scalability and high availability.
Defender9-1-1's modern, tile-based, graphical user interface (GUI) enables flexible personalization and customization of the user workspace tailored to individual PSAP preferences.
The dashboard's browser-based management enables system administrators to monitor and control the system from anywhere within their network.
To learn more about Defender9-1-1, visit http://www.telecomsys.com/defender911 or meet with TCS representatives at Booth 706 at the Texas NENA conference, April 8-9, in Galveston, Texas.
Since deploying the first U.S. wireless E9-1-1 solution in 1998, TCS has been leading public safety solutions for wireless Enhanced 9-1-1 (E9-1-1), NG9-1-1 and E1-1-2. TCS supports half of all U.S. wireless E9-1-1 calls, serving more than 140 million wireless and IP-enabled devices. TCS is the only non-carrier TL 9000-certified company that supports E9-1-1 services. Its highly reliable E9-1-1 and NG9-1-1 solutions ensure that a subscriber's emergency call routes to the appropriate PSAP and automatically pinpoint the caller's location information. TCS also leads the nation in emergency services IP network (ESInet) deployments.