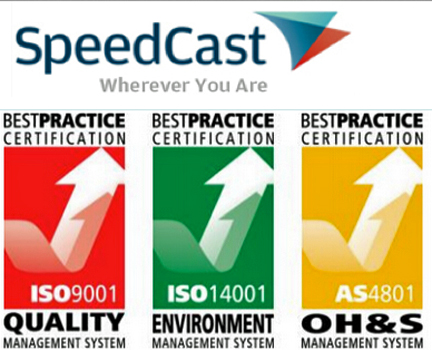 [SatNews] SpeedCast International Limited (SpeedCast) is now certified as an ISO 9001:2008 (Quality Management); ISO 14001:2004 (Environmental Management Systems); and OHSAS 18001:2007 (OHS Management System) compliant organization across all of its Australian and Pacific operations.

Certification for the ISO and OHSAS standards represent SpeedCast's dedication to quality and a recognised commitment to the highest levels of environmental management and safety standards. The certification process was initiated in direct response to the growing needs of Australia's Natural Resources sector. It is aimed at assuring employees, customers and stakeholders that the company is committed to best-in class processes in Quality, Environmental, and Occupational Health and Safety Management Systems.

"These certifications highlight the quality of our processes, which directly supports the services that we provide to our customers, and are reflected throughout our internal processes, procedures and culture. They also highlight our unwavering commitment to the safety of our staff, our partners' staff and customers' staff", said PJ Beylier, CEO of SpeedCast. "Lastly, the certifications assure every company and individual who buy, resell, or use SpeedCast's services have made the best possible investment in the quality of their telecommunications network".

"Following our auditor review, Best Practice Certification is pleased to confirm that SpeedCast's internal policies and procedures are focused on delivering and continually improving customer satisfaction against international management system requirements. Having achieved this certification, SpeedCast have proven their commitment to review and improve quality and environmental performance, while managing and reducing occupational health and safety risks," said Best Practice Certification, Marketing Manager, Amy Phillips.