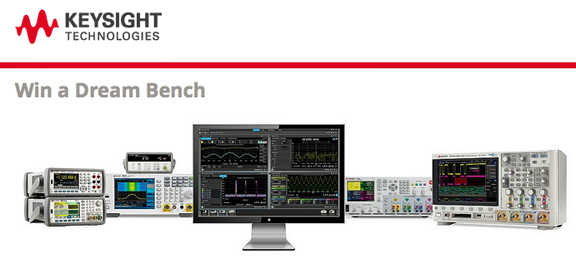 [SatNews] Engineers, scientists and technicians involved with electronic test and measurement are invited to enter into a drawing for a chance to win one of 46 valuable prizes, totaling more than $141,000 USD.

Running through November 2015, a drawing for one new Keysight 34470A 7½ digit Truevolt digital multimeter will take place each month. Then, in January of 2016, Keysight will award the grand prize—the Ultimate Dream Bench. The Ultimate Dream Bench consists of some of the most innovative Keysight test equipment on the market today. This includes an InfiniiVision 3000T X-Series oscilloscope, N9322C spectrum analyzer, 34470A Truevolt DMM, 33622A Trueform waveform generator, N6705B power analyzer, 34472A data acquisition unit and BenchVue Pro software.

In addition to the Ultimate Dream Bench, Keysight will award a number of highly valued prizes in mid-January 2016. A complete list of prizes is available at http://www.keysight.com/find/dreambench.

You may enter the drawing until December 15, 2015. For information regarding BenchVue, please visit this direct infopage.