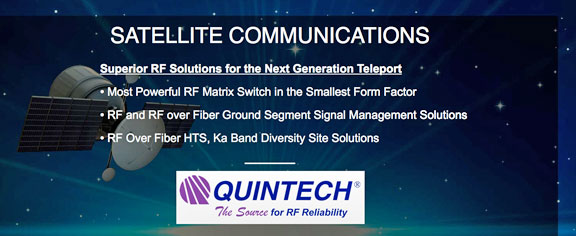 [Satnews] Quintech Electronics & Communications, Inc. has announced that the independent market research firm Frost & Sullivan has awarded the 2015 New Product Innovation Award to the firm's XTREME 256 Port L-Band matrix switch for satellite communications.
This award is part of Frost & Sullivan's Excellence in Best Practices Awards, which is presented each year to companies that have successfully introduced new and innovative products into their markets, with emphasis on product quality and customer value. This award involves extensive primary and secondary research across the entire value chain of RF matrix switch products. The XTREME 256 RF matrix switch product line is comprised of highly configurable fan-in and fan-out matrices that fit either symmetric 128x128 or industry-exclusive asymmetric (e.g., 32x224) configurations in a single chassis.
The Frost & Sullivan Best Practices Research Report is available at http://ww2.frost.com/about/best-practices-recognition/
Quintech will be showcasing the XTREME 256 fan-out and fan-in, ARCHIMEDES and 82 RF matrices at the
Satellite 2016 show in Gaylord National Convention Center, National Harbor, MD., March 7-10, 2016,
Booth #415. Please contact Quintech Electronics to schedule an appointment.
Frank Elling, president of Quintech Electronics, said, "Since its product introduction, the XTREME 256 has been widely accepted by our government, broadcast and satellite customers. Their responses have been overwhelmingly positive on the industry-leading RF specifications, ease of use, and savings in both capital and operational expenditures. Quintech continues to lead in the innovation of fan-in, fan-out and bidirectional matrix switches."