An 'always on' high bandwidth VSAT service to maritime customers is a goal many firms involved in the global supply and distribution of maritime SATCOM equipment continually try to attain.
To accomplish such a goal, Satcom Global has signed a strategic partnership agreement with Intellian, which will give the firm access to Intellian's full range of Ku-, Ka-band and FleetBroadband hardware and will support the delivery of their VSAT portfolio of VSAT and L-Band services to maritime customers across the globe.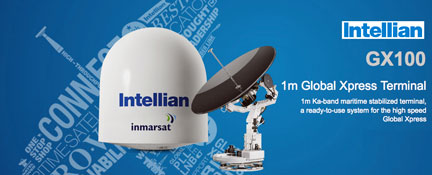 Satcom Global will have access to Intellian's full range of maritime satellite antennas suitable for operation on SATCOM services including VSAT, Inmarsat Global Xpress, FleetBroadband and Television Receive Only antenna systems. The company will also benefit from Intellian's three strategic service and logistics hubs located in South Korea for the Asia Pacific region; Rotterdam for customers in Europe; and Irvine to provide logistics and service support in the Americas. Dedicated stocks will be held in these three Intellian facilities, guaranteeing Satcom Global clients quick access to hardware as necessary and enabling the company to provide a fast and seamless global distribution service to meet deadlines and installation requirements.
The Intellian v100 and v100GX antennas will enable Satcom Global to deliver an 'always on' high bandwidth VSAT service to customers. Enabling a range of bandwidth hungry services, vessels will be able to operate as a true 'office at sea' while also keeping crews happy with sustained access to life online and onshore. Guaranteed data speeds also allow the use of applications such as video conferencing, e-learning and training as well telemedicine.
According to Ian Robinson, the CEO at Satcom Global, Intellian is exactly the kind of committed partner his company wished to team with to help them penetrate deeper into the maritime market with a world class managed connectivity solution.